I-League
I-League 2017: Defending champions Aizawl FC face stern test against Gokulam Kerala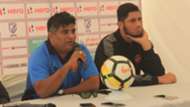 After a disappointing 1-0 loss to East Bengal, Gokulam Kerala FC will look to bounce back against reigning champions Aizawl FC, at the EMS Corporation Stadium in Kozhikode on December 31, 2017.
Head coach of Gokulam Kerala FC Bino George seemed confident that his team could win the three points against Aizawl. He was also delighted to return to his home turf after playing two away fixtures against Indian Arrows and East Bengal.
"It always feels great to be back at home. Our last home game didn't go well but a lot has changed since then. We're now going to face the champions and we're really pumped up to prove our worth against them," said George.
The Kerala born coach lamented the quality of his foreign players and was unhappy with the recurring injuries to them which have hampered his team's progress.
"Injury to foreigners have been the biggest issue we were facing and we couldn't get good foreigners as it was outside the window when we got the entry," stated George.
The club management has released Leo Mbele and Syrian footballer Khaled Al Saleh and Gokulam will look to strengthen their squad in the upcoming transfer window.
Meanwhile, Aizawl FC come into the game after putting up an incredible performance against Minerva Punjab FC in their last match when they won 3-1 at home.
Paulo Meneses admired the football culture in Kerala but stressed that his team would go for the full kitty.
"We are aiming for full points. Me and some of the players know how important football is in Kerala and it would be a difficult game. We have a young team with quality players."
"They have performed very well so far and I am happy with them. The team is fit and high on morale. We expect a tough game," stated Menezes.
The Portuguese head coach refused to believe that the hot and humid Kerala conditions will dent their winning chances.
"There is no problem. I think the players can adjust to the climate. The effect of weather is more psychological," signed off Menezes.