I-League
Indian Arrows coach Luis Norton de Matos unhappy with I-League scheduling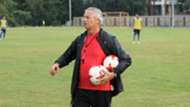 Indian Arrows suffered a 0-2 defeat against Mohun Bagan in their final match of I-League 2017-18 season on Tuesday. The India colts ended their season by finishing last in the table. 
India's U-17 World Cup heroes became the youngest team ever to compete in the I-League with an average age of 16 years and 9 months.
When asked to assess his side's season, Portuguese coach Luis Norton de Matos answered, "I'm very proud because the expectation (to perform as good) was not there - not for the points but about the way we played. Every match for us was a lesson, whether it was winning, losing or a draw. We progressed a lot individually as well. The team is much more confident now. 
"This team has an average age of 16 years and 9 months. So a team with that kind of age to make 15 points against teams with foreigners and professionals (senior players), I think it's exceptional."
Indian Arrows completed their season when some of the teams still have two matches to play and the former Benfica B coach was disappointed with the frantic scheduling. 
Matos said, "As I said yesterday (Monday), we needed a miracle to win today. In the last six days, we lost two days travelling including one night without sleeping when we went to Aizawl. I felt that the boys were very tired. I think all the leagues in the world have the last games together.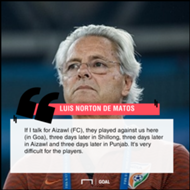 "For example, Churchill Brothers and Mohun Bagan have to play another two matches. Both teams will play here in a few days. So why don't they play today and give us the possibility to rest a few days? I know that we are not unique because other teams can have the same complaints, but it's a big difference. In the end, it's not an excuse as Mohun Bagan played better than us.
"If I talk for Aizawl (FC), they played against us here (in Goa), three days later in Shillong, three days later in Aizawl and three days later in Punjab. It's very difficult for the players.
"For us, it's very difficult because these players are always running and are always tired faster. Today, when we started the game, I knew that this team is not fresh physically and mentally."
The Arrows coach had some important suggestions for the All India Football Federation (AIFF) on how to improve the league. The Portuguese said, "All the teams must have the same conditions - not only Indian Arrows. All the leagues in the world have the same number of matches played for each team. 
"Second, you cannot start the competition for some teams in December and in less than one month change six to eight players (in the January transfer window). When all the teams play nine games, in this moment perhaps teams can change players. I think you can change two or three players, not eight. 
"For Indian football, it would be better to have at least two U22 players and maximum four foreigners in each team."