African All Stars
'I don't drink, I don't smoke,' Sadio Mane reveals secrets behind form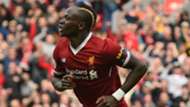 Sadio Mane has revealed the secrets behind his incredible form at Liverpool.
With a restricted lifestyle to drinking and smoking, the 25-year-old disclosed that his love for running when he was in school has made him the fastest man in Anfield this season.
Also, he declared his love for wholesome food and seldom visits to the gym twice in a week for body weight check.
The former Southampton forward has scored twice in two games for the Jurgen Klopp's men this season, after scoring 13 goals in 27 league games in his debut season in the Merseyside club.
"When I was in school we would always have running races. I was good at it. Always sprinting. I can run long distance too," Mane told DailyMirror.
"I work in the gym, twice a week I do abdominals. It is very, very important. I do quick sessions as I don't want to get big.
"I know my body, I know what is good for me. I have a chef who cooks for me, I like to eat healthy. I don't drink, I've never tried it in my life. I've never smoked either.
"This season I hold the [speed] record at the club! I always loved running, from when I was young. I never took a bag, I'd just carry my boots and run. There was never a bike. I'd get to the pitch and make six or seven laps and then get straight into it."