MLS
Howard & Beasley show they still got it for MLS All-Stars against Real Madrid
CHICAGO — As the U.S. national team continued to get its World Cup qualifying campaign back on track with four critical points in June, Bruce Arena's side found itself indebted to a pair of ageless wonders.
European target shines for MLS Homegrowns
At 38 years old, and seven months removed from groin surgery, Tim Howard stepped up with some key interventions in a 2-0 victory of Trinidad & Tobago. The Colorado Rapids goalkeeper may be closing in on 40 when the U.S. — should it qualify — travels to Russia for next summer's World Cup, but he remains an assuring presence between the posts.
"You can't say too much about Timmy because there's not much more to be said," U.S. defender DaMarcus Beasley told Goal. "He's still proving game in and game out that he can do it at this level, and it's good to have him back at his best, leading us to hopefully qualify for the World Cup — and to the World Cup in Russia."
Three days after Howard's outing, Beasley made his first competitive appearance for the U.S. in 20 months, gutting out 90 minutes at left wing back as the Americans earned a 1-1 draw in Mexico. The Houston Dynamo defender announced his international retirement in December 2014, and even enjoyed a national team send-off match in July 2015. But there he was, becoming the first American to participate in five World Cup qualifying cycles.
"Beasley has been there before," Howard said. "He's still quick in the turn, a lot of pace, a very, very smart defender."
Real Madrid misses Ronaldo in preseason
For some fans, the reliance on such veterans was cause for concern. Shouldn't an heir apparent have the seized the reins at goalkeeper by now? How is there not a younger option to trust at left back?
But as the MLS All-Stars faced Real Madrid on Wednesday at Soldier Field, the American soccer icons again got the nod on a high-profile stage — and they again stepped up to the plate.
While the All-Star lineup featured no shortage of individual talent, from Bastian Schweinsteiger and Kaka to David Villa and Sebastian Giovinco, the cohesion was sorely lacking. These players, of course, spent just two days training together in preparation for the midseason spectacle.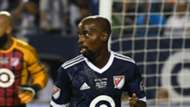 As Madrid laid siege to the MLS squad, it was Howard who held things together in the back. He did well to steer aside a stinging Marco Asensio shot in the 21st minute, and swatted away the Spaniard's chipped effort 12 minutes later.
Eight years after Howard earned All-Star game MVP honors for leading Everton to victory over the MLS squad, he returned to the contest again representing his domestic league.
"For him to still be playing at this level at his age is a testament to how good of an athlete and how skilled of a soccer player he is," All-Star goalkeeper Stefan Frei said. "I hope that he can play some more years, but whenever he calls it a career and quits he's going to go down as a legend for sure."
Beasley, meanwhile, made an unplanned entrance in the seventh minute after starting left back Greg Garza went down with a separated shoulder.
Just as the 35-year-old always seems to do, he held his own with a concoction of veteran savvy and that trademarked speed. And he did so in a poignant return to the stadium where he began his career with the Chicago Fire back in 2000.
"I know I can play, and the people that put me on the field know that I can play," Beasley said. "If I felt, as well as other people felt, that I couldn't be at this level, I would stop — simple as that. But I feel confident, I feel good, my legs feel fine. Hopefully I keep going until I can't anymore."
All-Star defender Michael Parkhurst added: "It's funny — I don't even think he stretches. If there's one guy that could go in there stone cold, it was him."
Howard and Beasley exited at halftime, having done their job to keep the game scoreless. Both players then watched on as Borja Mayoral netted the opener before Dom Dwyer pulled the All-Stars level late, with Madrid ultimately triumphing on penalties after the 1-1 draw.
Although the All-Star game should of course be taken at face value, acknowledged as the fan-driven exhibition that it is, a strong outing against Madrid isn't nothing.
"I'm getting older, and you don't get many chances like this," Beasley said, noting the All-Star honor itself trumped the opportunity to face an illustrious opponent. "My career is on a downward spiral, so you just enjoy the moment."
With the World Cup just 10 months away, Howard and Beasley — first capped in 2002 and 2001, respectively — both find themselves in Arena's top 23 players at present. And on Wednesday, they offered up another small dose of vindication.