Transfers
How Ronaldo forced Juventus into controversial Bonucci-Higuain-Caldara swap deal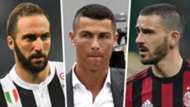 Leonardo is no stranger to outrageous proposals. He certainly took Anna Billo completely by surprise when he asked the Sky Sport Italia presenter to marry him live on TV in March 2013. 
A stunned and embarrassed Billo didn't say yes there and then; she required some convincing. However, the pair wed just six months later.
The Brazilian's impressive powers of persuasion have generated headlines again this summer. 
Many Milan fans were upset when it was confirmed last Wednesday that he was to return to San Siro as the club's new sporting director. 
This, after all, was the same man who had both played for and coached the Rossoneri only to then take charge of city rivals Inter, in December 2010. Eight years may have passed but some supporters still saw that as an act of betrayal.
However, the fan unrest has quickly dissipated, after the belated acceptance of another outrageous proposal.
After just one week in his new job, Leonardo has masterminded an incredible deal that will see Gonzalo Higuain and Mattia Caldara move to Milan in exchange for Leonardo Bonucci and €18 million. 
It is a truly remarkable piece of business for a club left shrouded in uncertainty after their previous owners, Li Yonghong's Rossoneri Sport Investment Lux., were forced to hand over control to the Elliott Management Corporation due to their inability to meet loan repayment deadlines.
With what is essentially one big, convoluted swap deal, Leonardo is addressing Milan's glaring need for a proven goalscorer in acquiring Higuain and paving the way for the two best young centre-halves in Italy, Caldara and Alessio Romagnoli, to play alongside one another at the Giuseppe Meazza.
The Rossoneri faithful don't just have their prodigal son to thank for this surprising turn of events, even though it was the smooth-talking, multi-lingual Leonardo who also resolved Higuain's initial reluctance to leave Turin.
Cristiano Ronaldo has also indirectly played his part in one of the game's most intriguing package-deals ever.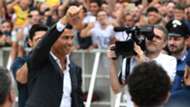 The Portuguese superstar's shock summer switch to Juventus in a deal worth an overall €340 million in terms of fees and wages created a need to balance the books in Turin.
As the Bianconeri's highest earner before Ronaldo's arrival, Higuain was always the man most likely to make way, given his exit would not only raise the most money, but also allow Ronaldo to take centre stage in Turin.
Essentially, it made both sporting and financial sense, as an €18 million loan fee, with a view to a permanent transfer next summer for an additional €36m, represents excellent value for a 30-year-old striker.
Milan are also happy with their lot, though, in light of Andre Silva and Nikola Kalinic's struggles in Serie A last season. Indeed, this feels like one of those rare deals that suits both parties; a win-win situation.
However, Juve's decision to agree to a straight swap involving Caldara and Bonucci – with both having been valued at €35m – is puzzling.
Make no mistake about it: this is an unusually risky move by Beppe Marotta, one of the transfer market's shrewdest operators. 
The 24-year-old Caldara had only just arrived in Turin. He was signed from Atalanta for an initial €16m in January 2017 before being allowed to stay on loan in Bergamo for another 18 months in order to develop.
The transfer was a necessary injection of youth into an ageing backline with a player that had racked up more goals, made more recoveries, and won more tackles and duels than Bonucci in Serie A last season – despite playing 11 games fewer.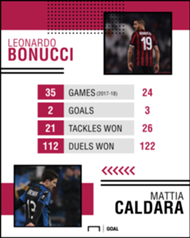 Granted, Juventus have ultimately decided against selling Daniele Rugani to Chelsea but the former Empoli starlet, also 24, is now facing another frustrating season on the sidelines, as Bonucci will go straight back into the Bianconeri defence.
As if the Ronaldo deal wasn't evidence enough of the Old Lady's lofty ambitions, this swap deal hammers home that Juventus have one sole objective for the coming campaign: to win the Champions League. 
That is what the Bianconeri want at all costs; and that is what Ronaldo wants at all costs. The five-time Ballon d'Or winner certainly did not come to Italy to help Juve win an eighth successive Scudetto. 
He came to try to enhance his legacy, to become only the second player to win the Champions League with three different clubs.
Both Ronaldo and Juve feel that this will only be possible if the forward is surrounded by a team of proven performers, seasoned campaigners with a winning mentality. 
That is why Bonucci has been brought back; and why he wanted to come back. Despite the acrimonious nature of his exit just one year ago, it seems as if both parties have realised that they were better together.
Juve recorded another domestic double last season but they were not quite as solid as in previous years and also missed his excellent distribution, while Bonucci himself endured a horribly erratic 2017-18 campaign that mirrored Milan's fluctuating fortunes.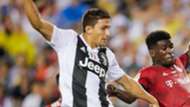 Despite the 31-year-old's inconsistent form, even Massimiliano Allegri was in favour of re-signing a player that he had essentially driven out of the club after one too many arguments with the outspoken centre-half, particularly after Bonucci made the first move in mending their broken relationship by thanking his former boss after being included in FIFA's team of the year at an awards ceremony in London last October.
There is nothing to say that old tensions will not resurface, though. With Ronaldo now on board, the pressure is very much on Juve to end their 22-year wait for Champions League success.
Juve legend Alessandro Del Piero said only this week, "Winning the Champions League is now a priority." In truth, it is the sole priority.
Swapping Caldara for Bonucci proves there is no long-term planning at play here. This is all about short-term again; putting the present ahead of the future.
Having grown accustomed to success based on sound planning, Juve fans are unsurprisingly perturbed by this sudden change in approach. They deliriously welcomed Ronaldo's arrival in Turin but they most certainly did not want to see the promising Caldara depart in exchange for Bonucci.
They viewed the younger man as the more valuable of the two. Marotta did too. But Leonardo changed his mind.
And perhaps we shouldn't be so surprised. As Billo, Higuain and even Milan's fans can attest, Leonardo can be very persuasive.