UEFA Champions League
How Dani Alves' Barcelona love affair turned sour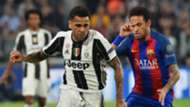 ---
COMMENT
---
"I will never find a better club than Barcelona." Dani Alves uttered those words in May 2015, amid the euphoria of a second treble with his beloved Blaugrana, newly ordained as the undisputed best club in the world. At that point, however, his future at Camp Nou was already murky. 
After the Brazilian decided to pack his bags following a reduced contract offer, frantic Barca officials struck a deal. If Dani stayed on for another season, he would then be free to look for another club. The man who has established himself as arguably the best right-back football has seen since the days of Cafu assented, and kept his word to the day. 
In 2016, after eight years and 23 titles with the Catalans - the sixth most successful player in their history - he left for Juventus. His departure is still felt keenly around his old club, who are yet to find a suitable replacement for their exuberant former son. 
Alves has not forgotten his time at the club. He joined Andres Iniesta in saluting the away fans who were forced to witness Juve's 3-0 dismantling of their club last Tuesday, the only players to do so. As his incursions into social media demonstrate, the full-back loves to take the spotlight. It was part of the reason why he was eventually considered replaceable at Camp Nou, even if subsequent results have shown that to be misguided. 
Even the arrival of Aleix Vidal in 2015 was rushed through in the belief that Dani would be leaving that very summer. Eventually the Brazilian stayed put, as the new man was left on the sidelines until the new year due to the FIFA transfer ban. That one-year extension was the final compromise between Alves and Barcelona, the couple that fell in and out of love during his time at the club. 
It was a mutually beneficial arrangement. Alves was convinced after the treble that he could keep the romance going a while longer, even if his wages took a hit. Barca, meanwhile, bought themselves more time with a player who was fundamental to all their success over the past decade, as well as one of Lionel Messi's closest friends in the dressing room - at least, until Luis Suarez landed in Catalunya. 
But there were already signs of strain in the relationship. While Alves stayed put, he did it for the fans and for his team-mates rather than for the club. 
The final straw for Barca came after 2015-16's Champions League elimination at the hands of Atletico Madrid. Alves appeared on Instagram in a curious wig, slamming those who dared to criticise his performance against Diego Simeone's troops. 
President Josep Maria Bartomeu was not all amused by the manner of his protest, although many directors sympathised with his message, and from that point on the door was pushed further and further open to usher the Brazilian out. Alves left on a free transfer, with very little farewell or fanfare that his sterling service merited. 
"To come back to Barcelona I would have to set a lot of things straight but the egos of certain people, which are giant, would not allow it," he told reporters before Wednesday's clash in typically forthright fashion. 
"I cannot forget how I was made to feel and that makes it very complicated."
Alves nevertheless remembers the affection of the Camp Nou faithful. It was telling that after such an abject display in Juventus Stadium only he and Iniesta felt the need to apologise to fans, while the rest of Barcelona's fallen stars shuffled off the Turin pitch. How Luis Enrique would love to count on the talent and character of the bubbling Brazilian for this second impossible comeback of Barca's roller-coaster season.