COSAFA Cup
Helman Mkhalele joins Bafana Bafana's bench for Cosafa Cup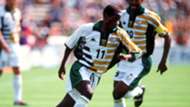 Ahead of the 2018 Cosafa Cup tournament in South Africa, Bafana Bafana coach Stuart Baxter has included legend Helman Mkhalele in his technical team.
The coach has roped in the former Orlando Pirates midfielder as they prepare for the regional tournament.
Mkhalele has previously worked with the South African U20 squad as Thabo Senong's assistant coach and the English mentor has invited the man also known as 'Midnight Express' to his technical bench in order to gain experience at senior level.
Baxter told the Timeslive website as they departed for Limpopo on Saturday morning looking to dethrone current champions Zimbabwe.
The tournament will be staged in Polokwane for the first time in its history and will get underway on Sunday where Comoros will face Seychelles whilst Madagascar meet the Mambas of Mozambique - both matches will be staged at Old Peter Mokaba Stadium.
Moreover, U17 coach Molefi Ntseki will be Baxter's assistant as Senong is absent to attend a coaching course.
Speaking about Mkhalele's inclusion, the former SuperSport United coach said the idea is similar to the one of including Pirates' assistant Rhulani Mokwena in a recent Four Nations tournament in Zambia, but the Buccaneers opted against releasing their assistant coach.
"In the last camp we were going to invite Rhulani in. Because one of the things we wanted to implement going forward was that a young' up-and-coming coach would be invited to attend the camp'" Baxter said.
"Not so much to be an assistant-coach' but to attend the camp for his own development and as an encouragement and reward for doing well," he added.
"For varying reasons it went a bit late and we couldn't get Rhulani on," he explained.
"And we said' 'What about this tournament?' And we said' 'Let's look within the organisation' and we'll take Helman," he said.
"Helman is going to be up there doing some scouting for the ABC Motsepe League. But we're going to bring him on camp' and he's going to be there for four days," said the Briton.
"And yes' this could be a thing for the future. If someone comes in and does everything right I'm sure the association will make a note of it," Baxter continued.
"But in the first-hand it's about rewarding people and empowering them and helping with their development," he reacted.
"Helman has a reputation as a good professional' and I'll be asking him' because this is a young squad' to put his arm around some of those players and help them along," he concluded.
Baxter will have a week to prepare with an exciting young squad for their quarter-final against the winners of Group A on Sunday' June 3.