Premier League
Hearts reveal new resolution to curb losing players for free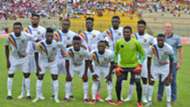 Hearts of Oak have taken a step to avoid losing players on a free as it happened after last season.
At the end of the campaign, the Phobians only helplessly looked on as about four first team players left the club due to expiration of their contracts.
The development drew a heavy backlash from supporters, who lamented the club's inability to tie down players to long-term contracts or extend expiring deals in good time, although management maintained they made fruitless overtures to renew contracts of the players in question.
"Going forward, the board has decided we will not sign on players for lesser years, that is, less than three years," Hearts public relations officer Kwame Opare Addo said, as reported by Citifmonline.
"That aside, the club has begun negotiations with players who have less than a year left on their contracts.
"That is because we value these players and we believe they can help us win something in the future.
"It will always come with money but we have learnt good lessons and we don't want to repeat the mistakes of the past. 
"We want to have a consistent team of players who can help us win trophies."
Striker Kwame Kizito, Vincent Atingah headlined the list of players who left Hearts on a free after the last campaign.
While uncertainty hangs over captain Thomas Abbey, talisman Winful Cobbinah could also be sold as the Phobians risk losing him on a free at the end of next season.