Fulham
'He must be at school' - Fulham's history-maker Elliott backed for bright future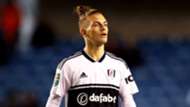 Slavisa Jokanovic has backed 15-year-old Harvey Elliott to have a bright future at Fulham, but has urged the young winger to stay focused on his schoolwork.
Elliott, born in 2003, came on to make his debut as a late substitute in Fulham's 3-1 Carabao Cup win over Millwall on Tuesday night, and became the club's youngest-ever player in the process.
Fulham manager Jokanovic was impressed with the teenager's performance, but was keen to make sure his prospect kept his feet on the ground, saying: "He moved the ball with quality and showed some speed.
"It's a great opportunity for him. We believe the future can be bright ahead of him. (But) he must be at school (on Thursday) morning."
The Serbian also revealed that Elliott had not been told about his inclusion until the last minute so as to not disrupt his studies: "He had some exams (earlier on Tuesday). He didn't know (he had a chance of being involved), I didn't want to put him in any trouble. I gave him the opportunity to test himself at this level."
And, according to his manager, the England youth international has the right attitude to grow into a star: "I don't know if I can in English use a wrong word but he is arrogant and positive.
"This kid shows the personality, like he says 'I want to show you I am a very good player; I want to show you'.
"I say, 'Okay, if you can show me I give you this opportunity'. A huge gap is ahead of him for improvement and to grow up and to be part of this profession.
Jokanovic added: "He is definitely a talented kid. At the end he showed some of the quality. We believe in opportunities to test at the senior level."
Joe Bryan, Luca de la Torre, and Cyrus Christie all scored their first Fulham goals in a 3-1 victory at The Den, but Jokanovic was eager to quell discussion of his side's poor defensive form of late, which has seen them concede 13 goals in six Premier League games.
He said: "After four years (away) and six games in the Premier League, we're not thinking of a defensive 'crisis'.
"We played well, (and) in the last game against Watford we fixed our defensive problem."