Premier League
'Has long-termism vanished?' - Sir Alex evaluates Wenger, Mourinho and other top PL managers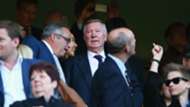 With the 2016-17 Premier League season wrapping up, one of the league's legendary managers ran the rule over its current crop, as Sir Alex Ferguson gave his thoughts on the bosses at some of the top clubs in the circuit.
Ferguson spoke to Sky Sports after having the League Managers' Association's Manager of the Year award named after him, and the former Manchester United boss had praise and constructive criticism for the current bosses, including words of support for longtime foe Arsene Wenger and United's Jose Mourinho.
Invincible Celtic create history
"At the moment, of course, with the ridiculous situation of the pressure Arsene is under, I just wonder if they realise the job he's done," Ferguson said of the under-fire Arsenal boss. "The most amazing thing about him is this: he has come through a forest of criticism for months now, and has never bowed.
"It's quite easy to say 'Get rid of him', but who do you get? Who do you get in to keep that club the way they are for the next 20 years?" Ferguson added. "Has long-termism vanished? I hope not because I think the stability that a manager like Arsene Wenger has brought to Arsenal, and Brian Clough at Nottingham Forest, myself at United...there's no evidence that sacking a manager brings success."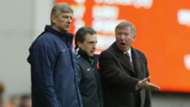 At the club most associated with the Scot due to his nearly three decades in charge, there has been some turnover since his retirement in 2013. The revolving door at United has apparently slowed with Mourinho's takeover last year, and Ferguson said he believes the Portuguese is close to leading the side back to the prominence it enjoyed so often under his own reign.
"I think United have done really well. I think with the draws, they've played really well in a lot of those draws. If even six of those draws turned to wins, that's 12 points, and they'd have been up there," Ferguson said.
"Hopefully we can start winning things because I'm sure that's what Jose wants. We do still chat, as I did with Louis van Gaal and with David Moyes. United directors in my time were always very supportive of me, and I hope that continues for them."
As for the new title holders, Ferguson believes Chelsea are a reflection of their Italian manager, who has turned things around in short order at Stamford Bridge.
"Fantastic, you see his energy on the pitch," he said of Antonio Conte. "There's a true saying that the team mirrors the manager, and that's what they've done with him. His team have stayed top of the league for so long."
No Watford contact, insists Ranieri
Ferguson was full of praise for Tottenham's energetic side as well, singling out Mauricio Pochettino's youth-oriented strategy.
"The value is two-fold," he said of Spurs' youth movement. "One, they'll always remember the person who gave them their start in life, and secondly, they create a loyalty base that is there for life. The young players we had coming through still keep in touch with me, and that is an indication of how well it works.
"I don't think short-termism works, I really don't," he added, reiterating his preference for a steady vision over the quick-fix approach that has seeped into some corners of modern football. "I think there are teams that can buy all the time and remain successful, but on a general theme, I don't think short-termism works. With Tottenham, to me, it looks like there is a long-termism there, they're building something that looks pretty good."