Premier League
VIDEO: Guardiola explains why he banned WiFi at Man City's training ground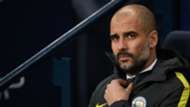 Manchester City have released a wide-ranging 30-minute interview with manager Pep Guardiola.
Xavi wants to be Barca manager
The City boss discusses a variety of topics, including his plans to take several of the club's Under-18s players on the pre-season tour this summer, and how sporting director Txiki Begiristain is planning for the transfer window.
Guardiola also shed light on the result of the round of golf he played with coach Brian Kidd, and reveals why he switched off the WiFi in certain areas of the club's training ground.
"There are places I don't like [phones to be used]," he said in the video, filmed in Abu Dhabi. "I know today that my generation is completely different to my kids' generation, the mobile, the computer is part of their lives. Before you'd read books, now it's on the computer.
WATCH: Man City wonderkid's stunner
"My players cannot spend all day with their mobile, and there are some places, the massage room for example, with the physios where they work, I don't like one physio working and the players texting. The day is long enough, we are working together four or five hours in the morning, there are 10 or 12 more hours to answer the messages. But I understand that everybody has their devices."
You can watch the full video below...