Transfers
Golovin's mother confirms Chelsea talks for Russia star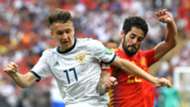 Aleksandr Golovin is in talks to join Chelsea, though such a move will not be completed until after the World Cup according to the Russia star's mother.
Golovin has emerged one of the breakout players as his country hosts the 2018 World Cup, picking up a goal in two assists in his three starts.
The 22-year-old CSKA Moscow man will be looking to help his country continue their dream run so far, as they face Croatia in the quarter-finals after a shock upset of 2010 champions Spain on penalties.
However, Golovin's club future has also become an important topic, as Goal understands Chelsea are closing in on a deal for him to join the Blues this summer.
And now Golovin's mother, Svetlana, has confirmed those talks to media outlet Komsomolskaya Pravda, though she admitted to be in the dark over the specifics.
"Yes, now there are talks between the clubs, but we still do not know the details," she said.
She also confirmed that those talks are unlikely to be completed until Russia's World Cup journey is complete, with Golovin and his family's full focus on seeing the hosts continue a run that has earned unlikely fans from across the nation.
"Sacha right now stands only for the Russian team, fully focused on the World Cup. The transition from one club to another will only be discussed after it is completed here.
"For now, everyone loves my Sacha, even those who before didn't care about football. His biggest fan is his 83-year-old grandmother – she does not miss a single match."
Golovin's World Cup has spurred interest from multiple big clubs across Europe, with the likes of Juventus also hoping to land the Russia star.
However, Goal has reported Chelsea's willingness to get closer to CSKA Moscow's asking price of €30 million (£27m/$35m) has put the Blues in the lead for his signature.
Golovin and Russia are in action Saturday against Croatia in Sochi with a spot in the semi-finals on the line.