Ajax
Going the Extra Mile: Coming of age - Ajax's kids were alright on the night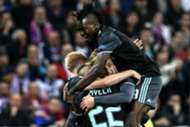 They were naive, immature, inexperienced and ill-disciplined. It so nearly cost them everything – but it is also their great charm.
With an average age across the squad of just 22, Ajax could hardly be anything else. Their fresh-faced pack of youngsters have enchanted the continent in this season's UEFA Europa League and now stand one match away from immortality.
Carrying a 4-1 lead into Thursday night's semi-final second-leg in Lyon, Ajax should have been home and dry. They'd done the hard work, having taken a convincing lead in Amsterdam a week ago.
Even free-scoring Lyon, who'd hit a whopping 20 goals in their seven games since entering the competition in the round of 32, should have had no chance.
And when 19-year-old Kasper Dolberg's magnificent, chipped finish gave Ajax the lead inside half-an-hour, the tie looked over.
But 79 crazy first-half seconds changed everything. "Two minutes before the break, everything went wrong," admitted coach Peter Bosz.
First, 17-year-old Matthijs De Ligt naively lunged at Alexandre Lacazette to concede a penalty. Then he and his colleagues puerilely allowed Nabil Fekir space in the box to turn and cross for Lacazette to roll in a second.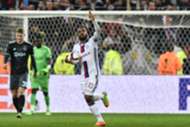 Having found their heads at the break, the young defence then lost them completely to leave an overload at the back post that saw Lyon come within one goal of the impossible.
It was backs to the wall, a time to take stock, to gather themselves. But Ajax were frantic, 27-year-old Nick Viergever setting the worst of examples to his younger team-mates by flying into Fekir to get himself sent off.
Lyon came time and again. Ajax needed to play for time, but 21-year-old Bertran Traore kept turning into trouble instead of holding the ball to give his side a much-needed rest. And then 20-year-old defender Davinson Sanchez took the decision to go on a barnstorming but suicidal charge upfield, heading straight at goal instead of for the corner; four of his young team-mates inexplicably joined him.
"We just had to try and hold on," said captain Davy Klaassen. They did, just. Ajax did it the hard way. But that's really the only way they have left. Four-time continental champions, this European giant has been dwarfed by football's globalisation.
"The Dutch league is not one of the strongest five leagues in the world or even Europe and that's why it is difficult to maintain," said Edwin van der Sar, now the club's general director, and a leading member of the last group of Ajax youngsters to achieve something remarkable.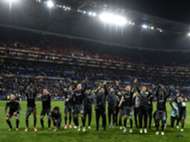 It's been 22 years since a previous bunch of wide-eyed kids from Amsterdam did the impossible, etching their names into footballing folklore for all eternity. Van der Sar, Reiziger, Blind, Rijkaard, De Boer and De Boer, Seedorf, George, Davids, Litmanen, Overmars, Kanu and Kluivert: Ajax 95.
It became shorthand not only for one of the all-time great European sides, but also for what might have been. That great team was ripped to shreds soon after, as all around them bigger clubs from richer leagues swooped to strip them of their assets one by one.
A 17-year-old Patrick Kluivert was the hero that night in '95, as Ajax downed a great Milan side by a single goal. On Thursday, his 18-year-old son Justin came off the bench on another famous European night for the club, one of seven players 21 years of age or under.
"Sir Alex Ferguson at Manchester United once said about a certain player 'Yes, he's a big prospect, a great talent,' and that guy was 23-years-old. Our captain is 23," said van der Sar. "We give young players the opportunity to dream."
Ajax have a new group of dreamers, and they're ready to realise a dream together - while they still can. Here today, they'll be gone tomorrow, like Ajax 95.
But first, as Bosz said on Thursday, "They have a story to write." The final chapter arrives in Stockholm, against Manchester United and the most expensive squad ever assembled in the game's history.
They rode their luck in Lyon, but Ajax's kids were alright on the night. "This is a super feeling," said Bosz. "Now we'll see if we can really make history."
Enterprise Rent-A-Car is an official partner of the UEFA Europa League. As a fan of the game, visit www.enterprise.co.uk to enjoy special rates on car hire across Europe