WTF
Ceni, Chilavert & the most famous goalscoring goalkeepers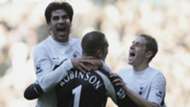 There are few things that provide more of a rush of energy at a football stadium than the sight of a goalkeeper heading upfield for a set piece.
For most stoppers across the world, such measures are restricted to emergencies - the final moments of games when their teams desperately need a goal to salvage a point.
For others, though, the opposition half is much more familiar territory.
From dead-ball experts to goalkeepers-turned-strikers, Goal charts the history of the most prolific glovemen in the history of the game.
---
GOALSCORING GOALKEEPERS IN THE PREMIER LEAGUE
---
Only five goalkeepers have the distinction of scoring in a Premier League match.
The first, fittingly, was netted by perhaps the greatest stopper the English top flight has ever seen: Peter Schmeichel.
Schmeichel had scored a handful of goals in Denmark and it is not hard to figure out why; he stood 6' 3" tall and had an enormous frame, making him hard to contain when he went up for late corners.
The former Manchester United man did not score for the Red Devils, though, seeing an overhead kick disallowed for offside in a European game. Instead, he got off the mark in England with Aston Villa, breaking the goalkeepers' duck in the Premier League in a 2001-02 match against Everton.
Four more goalkeepers have gone on to score since: Brad Friedel, Paul Robinson, Tim Howard and Asmir Begovic. It has been four years since the most recent Premier League goalkeeper goal, scored by Begovic for Stoke City, in November of 2013.
---
THE MOST FAMOUS GOALSCORING GOALKEEPERS
---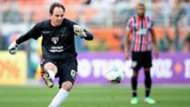 Undoubtedly the most famous goalscoring goalkeeper is Sao Paulo legend Rogerio Ceni.
He played for the same club for 23 years, making well in excess of 1,000 appearances, and notched a remarkable 131 goals. That's more than the likes of Steven Gerrard, Ryan Giggs and Didier Drogba scored in their Premier League careers.
How did he do it? Well, Ceni was a set-piece expert, with all but one of his goals coming from penalties and free-kicks. Incredibly, he scored as many of the latter as he did the former.
The only goalkeeper to really come close to Ceni was Jose Luis Chilavert, the popular Paraguayan stopper who notched 67 goals over the course of his career.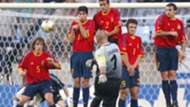 Chilavert - who, like Ceni, was a dead-ball specialist - holds the unique distinction of scoring a hat-trick (all penalties) and also has the most international goals of any goalkeeper, netting eight. Four of them helped Paraguay qualify for the World Cup in 2002.
While Ceni and Chilavert are both goalkeeping greats, though, there is no one quite like Mexican legend Jorge Campos.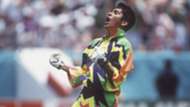 Campos was so technically gifted he could play as a striker, occasionally starting the game in goal before ending it up front. He scored 46 goals during his career and 14 of them came in one season for Pumas in Mexico's top division, when he was the backup goalkeeper and asked to play in attack instead.
There are many other well-known goalscoring goalkeepers, such as Dimitar Ivankov, Rene Higuita and Hans-Jorg Butt, but not many still playing nowadays.
As Marcio and Cristian Lucchetti are now nearing the end of their careers, perhaps the most notable active example is Vincent Enyeama. He was Hapoel Tel Aviv's penalty taker and scored nine goals, but sadly has not been tasked with taking spot kicks at Lille.
---
THE GOALKEEPER'S PUSKAS CONTENDER
---
For the best goal ever scored by a goalkeeper, it's hard to look past Oscarine Masuluke of South African club Baroka.
There are not many boxes that his effort against the Orlando Pirates does not tick. Scored by a goalkeeper? Check. Bicycle kick? Check. Last-minute equaliser to save a 1-1 draw? Check.
And then there's the celebration.
Masuluke earned a Puskas Award nomination for his incredible goal but tragically he only finished second, losing out to Olivier Giroud's scorpion kick.