Simba
Who is Ligi Kuu Bara's Coach of the year?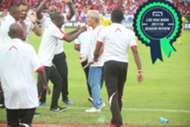 The Premier League is nothing without skilled coaches both locally and foreigners. 
Managing a football team requires a diverse array of talents and a substantial knowledge of the game. As well as being tactically astute, managers should be able to work individually with players to motivate and discipline them.
Their instructions need to be communicated effectively, and they must anticipate the physical and psychological condition of their players. Of special importance is a manager's ability to make intelligent substitutions and tactical changes during matches.
Goal reveals Coaches who had an exceptional season against all odds
---
Pierre Lechatre (Simba SC)
---
A European coach who knows the ins and outs of African football. He joined Simba mid-season to replace Joseph Omog who was sacked by the club after being eliminated by Green Worriers in the FA Cup in December.
Since joined the Wekudundu wa Msimbazi the Frenchman has only lost once in the Premier League and he was knocked out of Caf Confederation Cup by Egypt's Al Masry through an away goal.
He inherited an excellent team in all positions and favored a quick style of counter-attacking football
---
Seleman Matola (Lipuli FC)
---
Seleman Matola is a former Tanzanian National Team player who spent most of his playing career at Simba and represented the country more than 50 times.
His work-rate as a player mirrors the effort he now expects from the players he manages at Lipuli FC.
Lipuli who were promoted in the Vodacom Premier League this season have become one among the hardest teams to beat especially at the Samora stadium and they have ensured their safety in the Ligi Kuu for next season when most people didn't give them a chance.
---
Zuber Katwila (Mtibwa Sugar)
---
The former Mtibwa Sugar and Tanzania National team striker has become one of the finest managers in the land.
With no big budget for the team during the transfer window, Katwila has managed to lead the team to the top spots in the Premier League and the FA Cup Final were they will play Singida United.
Katwila has managed to maintain the long culture of Mtibwa bringing on young talent and playing vibrant football.