Karim Benzema
'Give me a break' - Benzema denies kidnap accusations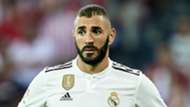 Karim Benzema has sent a furious tweet aimed at the French media, instructing them to "give him a break" following allegations from website Mediapart that relatives of his were involved in kidnapping former representative Leo D'Souza.
Benzema himself was not implicated, but a report was published on Thursday that alleged the Real Madrid star's family were involved in a plot that saw the agent taken against his will and placed in isolation on Sunday, October 7.
The following day, a report was filed with the police, who opened an investigation into the case.
It is claimed that the motive behind the kidnapping was D'Souza took €50,000 when he was working as an assistant for the player. He has strenuously denied these claims, instead explaining that the money was seized by customs during a trip to Morocco.
Benzema responded on Thursday with a tweet that laid out his feelings in no uncertain terms.
« Un proche de Benzema touche le bras de De Souza, c'est un enlevement »  « De Souza est roué de coups, il n'a aucun jour d'ITT » « De Souza dit que Benzema était dans le Van, thèse écartée par les enquêteurs » Ce monde est-il sérieux ? #FautArreter #Givemeabreak #CTrop pfff 🤮

— Karim Benzema (@Benzema) October 18, 2018
"'Someone close to Benzema touched the arm of De Souza [sic], it's a kidnapping' 'De Souza was severely beaten but will get no incapacity benefit' 'De Souza says that Benzema was in the van, claims rejected by the investigators' Is this world serious?" he posted, followed by hashtags that translate as "it must stop" and "it's too much", as well as "give me a break".
Benzema's lawyer had previously spoken to RMC over the matter.
"I've discovered that it was not my client who was targeted but an acquaintance that he has in common with Mr D'Souza," Sylvain Cormier said. "They did not work together. Maybe Mr D'Souza had dreams bigger than his abilities and he's letting off steam with this false and abusive complaint.
"We have filed a complaint for breach of trust and tomorrow we'll file one for slanderous denunciation.
"I've spoken to my client, who is furious that someone wants to harm him with an abusive complaint of this nature. Karim has nothing to do with this. This fantasy that there was a kidnapping, it's grotesque."