Premier League
Ghana Normalisation Committee VP Lucy Quist resigns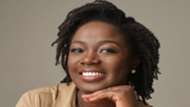 Ghana Normalisation Committee vice chairperson Lucy Quist has stepped down from her position following 'personal reasons', according to a statement she posted on social media on Friday.
"I pray that all stakeholders will put their differences aside and focus on achieving the greater vision of football that not only produces great players for Ghana but by extension makes a positive impact on our economic fortunes," she wrote.
The Normalisation Committee (NC) was put in place by Fifa in September 2018 to handle all football activities in Ghana in the wake of a corruption scandal involving top administrators of Ghana Football Association and referees.
The committee's initial six-month mandate ended last March but it has been renewed.
One of the NC's main missions is to organise fresh elections for a new Ghana FA President and Executive Committee members.
The NC also oversees the Special Competition which has reached matchday 11.