Ghana
Ghana goalkeeper Dauda slapped with a ban and fine in Nigeria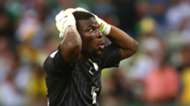 Ghana and Enyimba goalkeeper Fatau Dauda has been found guilty of misconduct by Nigeria Professional Football League, organising body League Management Company (LMC), for confronting a ball boy during his side's 2-1 defeat to Katsina United in matchday 18 on Sunday.
The football body claim the 32-year-old breached rules C11 and C1 of the championship.
He was consequently handed a one game ban and a fine of $163 and has until Thursday to appeal the decison.
"Enyimba's goalkeeper Fatau Dauda is suspended for one match and fined $163 for aggression towards a ball boy during their match against Katsina United," a LMC statement read.
"Dauda was charged for breaches of rules C11 and C1 which included assault on a ball boy and acts capable of inciting others to commit violence during their Matchday 18 fixture against Katsina United," the statement stated.
After the game, irate supporters of Katsina attacked Enyimba and smashed the windows of their bus, with some of the players picking various kinds of injuries in the process.
Katsina have been fined $8,180 with $3272 compensation to Enyimba as well as cost to repair the damaged bus which is yet to be determined.
Katsina have also been ordered to play their next three home games against Plateau United, Abia Warriors and El Kanemi Warriors behind closed doors.