Geylang International
Geylang International: A team teemed with history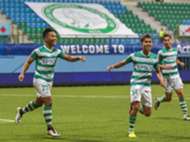 Look at the Singapore Premier League table today and you will see Geylang International sitting at a lowly seventh position. The Eagles have struggled at times this season with results not going their way but football wasn't always cruel to Geylang. In fact, ask any local football fan belonging to the older generation about the Eastern club and they will evoke a smile before reminiscing about that golden period in the club's history.
It all started with an ethnic Chinese man by the name of Colin Ng. Omar Ashiblie; a former Geylang International player in the 70s mentioned how Mr Ng's eyes lit up when he spoke of his plans to him; to build a successful football team that would be remembered for generations to come.
Geylang was soon founded in 1973 and was known as International Contract Specialists (ICS). In 1974 FAS (Football Association of Singapore) required all clubs to be named under a district; ICS changed its name to Geylang International as the club's home ground was based at Geylang Stadium, Lorong 12. Indeed the club's fortune would also undergo a massive change. In 1975, they entered the NFL (National Football League) and won it before adding another NFL title in 1976. Their back to back victory was made sweeter by winning the 1976 President's Cup.
In 1988, the FAS started a semi-professional league competition called "The FAS Premier League" as the top tier of the Singapore football league structure. From 1988-1993 the club would be at its zenith.  Geylang would go on to dominate the competition and in doing so earned fans across the country. Every game would see their homeground packed to the brim as fans clamoured to catch a game of the Eagles' skilful players. Subsequently, due to the huge fan following which numbered in the thousands, all their games had to be played either in Jalan Besar Stadium or Kallang Stadium.
The men in green and white would secure a staggering six consecutive titles from 1988 to 1993 before finishing third in 1994 and second in 1995. Their success was also aided by the players they had. Notably players such as Malik Awab, Razali saad, Dollah Kassim, Samad Allapitchay and Robert Sim all contributed to the success of the team. These were players who would also go on to represent the country. It might not be known widely but the club even managed to attract one of the biggest European stars of that era to turn up in their club's colours.  French forward and legend Michel Platini visited Singapore to attend a football clinic conducted by the club. And in the process he would play half a game for The Eagles highlighting the club's attraction.
In 1996, now known as Geylang United, The Eagles won the inaugural season of the S.League after defeating Warriors FC in the Championship Play-off. That team also had a star-studded line-up featuring Fandi Ahmad, Kadir Yahaya, and  former Iranian Internationals, Hamid Reza Estili, and Mohammad Khakpour.  It would be in 2001 before they would win the S.League again due to the exploits of a certain Aleksandar Đurić.
Geylang's rich history has endeared itself to many of Singapore's footballing fans. They associate the club with a time where the nation's football was something to be proud of. Till today many of the club's success stories in the past continue to be passed down from generation to generation. Geylang is truly a Singaporean club that will no doubt always have a place in the people's heart. While today the club may offer a different viewing, its past can never be erased. As they say in Geylang "You can't buy history."