Manchester United
Game-changer Mkhitaryan showing Martial the way back into Man Utd team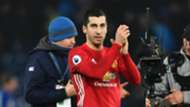 ---
COMMENT
---
It is only two months since Henrikh Mkhitaryan was the man in the same position Anthony Martial currently finds himself in. Held accountable for a poor workrate in the derby defeat to Manchester City in September, the Armenian had to take the long road back into Jose Mourinho's plans.
Ibra sets Premier League record
But Manchester United's 3-0 victory against Leicester City on Sunday was the latest example of Mkhitaryan's wonderful response to his exile, and in many ways he has given his French team-mate the perfect blueprint to follow as he looks to regain the faith of Mourinho.
The 2-1 home loss to City in September was notable for Mkhitaryan's tepid 45-minute performance and he would not appear again for nearly two months, and for a total of almost three months in the Premier League, as Mourinho insisted that the former Borussia Dortmund man needed to earn his manager's trust away from match situations before he was given another go.
It was not an easy period for the player, but he quickly got the message and was told by those around him that there was only one real way to respond.
"I played really badly against City," Mkhitaryan later admitted. "As a footballer you just have to try to learn what you've done badly and what I could do well.
WATCH: Ozil loses it with Alexis Sanchez
"During that time, I had conversations with Jose Mourinho. You can feel the confidence he gives you. I kept talking to [my agent] Mino Raiola. We are friends before anything else and he said 'Micki, you know what, this is life experience''. I said 'I know and I will never give up. I've had a long way to come to Manchester United and one day for sure I will play.'"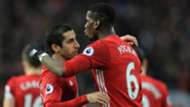 He couldn't have responded better. Since being given another chance in late November, Mkhitaryan has started 12 games and scored five goals. His latest broke the tie in the visit to the league champions and there was simply no looking back. He may have started on the left in an experimental 4-4-2 but as soon as he moved to the No.10 spot and began running at the cautioned Danny Drinkwater he always looked United's best outlet.
He would later tee up Juan Mata for United's third after Zlatan Ibrahimovic had netted for the 20th time this season, and nobody at the King Power Stadium had been left in any doubt who had done the gravest damage.
Martial, meanwhile, was left to sit the game out on the bench as Mourinho stands steadfastly by his policy of demanding his players do more to earn their place. And, while the 21-year-old's agent Philippe Lamboley has done a healthy line in touting his client's name around in connection with Sevilla in recent times, he might be better served giving Martial the same advice Raiola gave Mkhitaryan.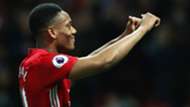 "I had this season a situation that was more difficult than Anthony — Mkhitaryan," Mourinho said in December as Lamboley waded in on the argument. "Mkhitaryan was completely open and understood the difference between me and other coaches he had. He worked a lot without playing, but he worked a lot to try to reach the level.
Aguero drops major Man City exit hint
"People forget that Anthony is very, very young and last season Manchester United played completely different than we do today."
Martial's best course of action right now would be to do exactly what Mkhitaryan did. The Armenian has bounced back to be Manchester United's most effective attacking force, the man who can make the difference just when they need it. It's just what Martial did for much of last season, and there's no reason why he shouldn't be able to do it again.