Africa Cup of Nations Qualification
Gambia captain Omar Colley explains reason for pulling out of Algeria clash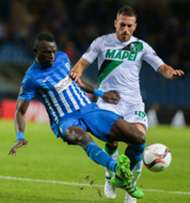 Gambia captain Omar Colley has explained the reason for pulling out of the squad to face Algeria in the 2019 Africa Cup of Nations (Afcon) qualifier at home on Saturday.
The Sampdoria defender has released a statement, saying he was forced to excuse himself from national duty to help nurse his wife. She is facing health complications after recently giving birth.
"I would like to clarify issues circulating these past weeks with regards to my failure to come and represent my country, The Gambia, in our Afcon qualifying match against Algeria," said Colley in a statement.
"As you all know, being captain of the Scorpions, I'm always motivated to come and play for my country and give my all.
"But, unfortunately, I couldn't this time around because of family reasons. My wife gave birth but had complications and is still currently under doctor's care and of course, moments like this I should be with her."
Colley said he has communicated his position with coach Tom Saintfiet.
"I have spoken to the coaching staff about my reasons and they understand but I just felt it's time for me to explain things for all to understand.
"I want to place on record my support and best wishes to the coaching staff, my Scorpions teammates and the entire country in particular all the best of luck on Saturday and I pray we get the desired result as a nation."
Colley's withdrawal could complicate matters for new coach Saintfiet's first game in charge of the Scorpions who lost their opening game 1-0 away in Benin.
Further compounding Saintfiet's woes is the pulling out of another key player Modou Barrow, the Reading winger, due to family reasons again.
Midfielder Hamza Barry has also asked to be excused from the team under unclear circumstances.