eSports
FUT Champions Cup Online Qualifiers format tweaked following complaints from FIFA 19 pros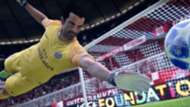 EA Sports have made huge changes to the format of this year's FIFA esports tournaments, hosting an incredible amount of FIFA 19 live events which feed into a global leaderboard that decide the eWorld Cup participants.
However, to get to said live events you have to first perform well in the online tournaments which start this weekend.
The online qualifiers are already surrounded by controversy as pro players were livid when the online format was announced, beginning with a swiss format of best of one matches.
I'm sorry... but this qualification system is a big disgrace.

— Dani Hagebeuk (@DaniHagebeuk) October 17, 2018
Had a terrible nightmare where I was playing 1 bar opponents on P2P connection in a qualifying tournament for an event with tens of thousands of pounds in a BO1 format. Oh wait wasn't a nightmare, was me just reading the rules for this Saturday, cracking 👍😂😂😂

— FUTWIZ Zelonius (@zelonius92) October 17, 2018
The issue with online matches is the connection for one player could be terrible, meaning with only one chance it becomes a lottery of who progresses rather than who actually played better. This becomes an even bigger problem when players from Africa have to play against players from Europe as nobody has a good enough connection to keep that smooth.
You would have to be extremely lucky to advance to the next stages, needing six wins out of eight best of one matches.
The outrage quickly spread across social media.
These online tournaments are designed to give everyone a fair chance, but with so much money on the line the format is important.
Fortunately EA have acted quickly and changed the swiss format to a best of two instead. Now, matches will be played over two legs and if the score is tied, players will then have to start another game and whoever scores first wins, even if that is in extra-time or penalties.
Now players at least have a second chance and can try to resolve any connection issues between legs. So far the reaction of pro players has been positive - it's a relief for them to see that EA are taking their feedback on board.
If EA simply halved the players that could qualify last year from 64 to 32, that would be better than what we are going to experience this year for qualification. I'm amazed at what I'm witnessing, we may as well pick names out of a hat because a BO1 Swiss format is pure luck.

— Ryan Pessoa (@HashtagRyan_) October 17, 2018
Fair play to EA for addressing the issue of playing in a BO1 format, changing it to BO2 for the Swiss format stage of the tournament. Credit where it is due 👍🏾

— Ryan Pessoa (@HashtagRyan_) October 18, 2018
The rest of the online qualification tournament will remain the same with a 'triple elimination' swiss bracket and a best of three top cut which EA claims will ensure "the highest competitive structure".