Friendlies
Furman eager to impress in-coming Bafana Bafana head coach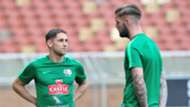 Bafana Bafana midfielder Dean Furman, meanwhile, looks to impress the in-coming coach in their friendly international matches starting with Guinea-Bissau on Saturday.
"For all we know the coach is watching these games and taking notes on who he likes and doesn't like. So for us, the new coach may not be here in person, but we know he may be watching, so there's all to play for as individuals," Furman told The Sowetan.
"But also, winning breeds confidence and gets the nation behind us, and that's what we want. We've got huge games coming up and a massively important year.
"On our first day of camp the team manager (Barney Kujane) went through the year coming up and it's massive for us as a nation," Furman said.
"We've got huge Africa Cup of Nations and World Cup qualifiers, and these are competitions that we want to be playing in.
"It was a huge disappointment not to be at this year's Afcon. I can't say I watched much of it myself because I felt like we should have been there and it was actually hard to watch," Furman added.
"So that hurt is still there, and we better make sure we are at these competitions. None more so than the Afcon, but the World Cup as well is the pinnacle of anyone's career.
"So for us these games are no games where we can take our foot off the gas. We have to be full-blooded, 100%. And as I say the new coach may be watching and it's another chance for us to impress," Furman concluded.