Jamie Vardy
From rags to riches and back to rags! What has happened to Jamie Vardy?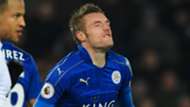 ---
COMMENT
---
'Jamie Vardy: The Movie'.
It was around 12 months ago that the idea was mooted that Hollywood were seriously pondering charting the rise of the striker from non-league troublemaker to Premier League record-breaker on the big screen, and as Leicester and Vardy marched towards the title that soon became a reality.
EXCL: Iborra respectful of 'champions' Leicester
A script has been written and casting begun for the upcoming blockbuster, but there has surely been a moment in the writer's room over the past few months where the question of whether to include both the player and club's fall from grace in the final act. Reports suggest that will not happen, but that does not mean Vardy can shy away from what has been a calamitous campaign.
At this point last season, the England international had already netted 19 Premier League goals. This season he has just five. A hat-trick against Manchester City in December suggested a return to something like his best form, but remove that treble from his record and his last Leicester goal came against Liverpool at Anfield on 10 September. That equates to over 35 hours of football in all competitions, and only a disastrous defensive showing from Pep Guardiola's side saved him from one of the longest and most high-profile droughts of recent years.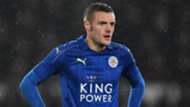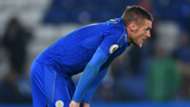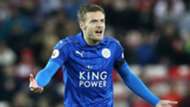 And while Leicester were able to put their poor league form behind them when they took to the Champions League stage during the first half of the season, the same could not be said for Vardy. He failed to break his European duck during the five group matches he appeared in while mustering just three shots. Unlike Riyad Mahrez – who despite his lethargic showings domestically was able to raise his game for continental competition – Vardy has struggled to replicate his form from last season on the biggest stage of all.
As the Foxes head to Spain to take on Sevilla in the first leg of a last-16 tie no one would have predicted 18 months ago, they do with a lead striker who is horribly out of touch. Given recent displays it is hard to see Claudio Ranieri's team even getting close to a side that sit third in La Liga, but if the Italian cannot get Vardy firing then their task becomes almost impossible.
Lineker: Ranieri's rotation 'utter bollocks'
Though the lack of N'Golo Kante's influence in midfield is the main difference between the Leicester of last season and the one of this, the lack of returns in front of goal from Vardy can be cited just as strongly. Though Kante certainly was able to help Vardy as he won the ball back and turned defence into attack in the blink of an eyelid at times, Vardy also cut a far more confident and composed figure both on and off the ball.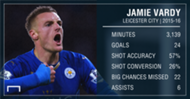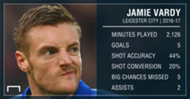 Fast-forward to the current campaign and the same energy does not seem to be there. Vardy's commitment to closing down off the ball seems to have waned, particularly when the champions fall behind. He also seems to have become far greedier in front of goal, and whether that comes from the panic of going so long without a goal or a lack of trust in his team-mates, only Vardy knows. Either way, it is not working for him.
Motivation is also a factor. What else can Vardy - or most of his Leicester team-mates for that matter - now achieve that will be greater than winning the Premier League. Champions League glory seems unlikely, and with Vardy having agreed a contract worth £110,000 a week, there is not even the carrot of vastly increasing his personal wealth to get him going anymore. It would be harsh to label Vardy as someone who has given up, but there are signs within his demeanour on the pitch that suggest the burning desire to succeed from last season is no longer as bright.
What's wrong with Leicester City?
Whether there is any way the player can change is up for debate. His pace in behind remains a threat despite turning 30 in January, but with Leicester creating so few chances compared to last season and teams tending to sit deep in a bid to curb the threat of the counterattack, it is not as if Vardy is just continually fluffing his lines. His knack of netting from almost anywhere in the final third has gone, but he needs help from others to really be a force on a consistent basis once again.
Given Sevilla's strength and the likelihood of them dominating Wednesday's clash it seems unlikely that Vardy will get the opportunities he needs at the Ramon Sanchez Pizjuan to find his scoring touch. But if Leicester are to survive in the Premier League or continue their Champions League fairytale, the forward must start finding the net again and prove last season was not just the dreams of a Hollywood scriptwriter come to life.