Polls & Quizzes
From Owen and Fowler to Anelka and Macken: Test your Liverpool – Manchester City knowledge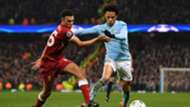 This weekend, Liverpool and Manchester City will do battle in the first clash between this season's Premier League favourites.
Liverpool are unbeaten in their last 24 home league games, the longest current run in the Premier League (W16 D8) and reigning champions City will be out to end that run and banish the memories of going down 4-3 in this fixture last term.
But how much do you know about these two ahead of another potential modern classic?
Did you know that Pep Guardiola has lost more matches in all competitions against Jurgen Klopp than he has against any other manager?
And were you aware that in 42 Premier League meetings between the two clubs, only one fixture has seen a player score a hat-trick?
Take our tricky quiz below and put your knowledge to the test – and then share it with your mates to prove just how much you know ahead of a Premier League clash of the titans.
(function(b,o,n,u,s){var a,t;a=b.createElement(u);a.async=1;a.src=s;t=b.getElementsByTagName(u)[0];t.parentNode.insertBefore(a,t);o[n]=o[n]||[]}) (document,window,'_qual_async','script','//performgroupuk.qualifioapp.com/kit/qualp.2.min.js');_qual_async.push(['createIframe', 'qualifio_insert_place_518719', 'performgroupuk.qualifioapp.com', '20', '3D18C22F-9FCF-27A9-B2D7-BE08F1AD898F', '100%', '1200', '', '', '', 'max-width:810px;margin:0 auto;']);