World Cup
From League Two to the World Cup - the remarkable rise of Egypt star Morsy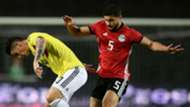 Last Friday, Wigan's Sam Morsy took his place in the Egypt line-up opposite James Rodriguez, Colombia's Champions League-winning midfielder in a pre-World Cup friendly in Bergamo.
Four years ago, Rodriguez stood on the brink of becoming the most-talked about young player on the planet. His talents were already well known but his six goals at the 2014 tournament in Brazil were about to send him Galactic.
That summer his exploits for the national team – including a remarkable swivel volley against Uruguay – earned him a transfer to Real Madrid from Monaco and set him on the path to superstardom.
Sam Morsy would have been feeling pretty chuffed that summer too; for he had just helped Chesterfield gain promotion from the fourth tier of English football to the third. He earned their player of the year honour into the bargain.
As far as contrasts go, those are pretty dramatic. But, on Friday, Rodriguez and Morsy stood as equals. When, on Monday, the midfielder was named in Hector Cuper's final 23 for Russia 2018, his remarkable journey took another turn. 
There are plenty of talented players in the Egypt squad – Morsy among them – but few who can give the team what he can from the centre of midfield. He is schooled in the hard-knocks of the British game and will boast a wildly different football upbringing than his national team colleagues.
"I'm competing with some good players," he tells Goal. "I'd like to see myself as a tenacious ball-winning midfielder but also I like to get on the ball, start attacks from deep. The system we play I've had success. It suits me down to the ground. I got the opportunity to show the manager what I can do."
Born in Wolverhampton to an English mother and Egyptian father, Morsy studied in the Wolves academy before being let go as a teenager. He would have to tumble back to the bottom of the pyramid – with Port Vale in League Two – in order to get back to the level he belonged.
It's fair to say that Morsy was an outside bet for international honours in either of his countries' colours while negotiating his way through the bottom divisions of English football.
But the football world has become a much smaller place as a result of technological innovations and through a professional scouting and analysis platform the Egyptian FA began their tracking of Morsy.
In the summer of 2016 he answered the call from his father's homeland, making his debut in a friendly that August against Guinea in Borg al Arab.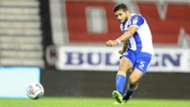 "They knew about me for a while," he says. "They had been watching the games and watching my performances.
"It's very easy to access performances now. They were happy with me and since then I've been involved in many of the camps."
He had signed for Wigan from Chesterfield in January 2016 and the day after his international debut he was to join Barnsley on loan. Back to the grind.
Morsy's road to Russia may have a few more outposts on it than your average World Cup star but it is testament to his hard work, his tenacity and drive. Those are exactly the kind of characteristics that appealed to Cuper, Egypt's Argentine head coach.
And this year all that effort - and Morsy's relentlessness - paid off.
After suffering relegation from the Championship the season before, Wigan are back. They were promoted as champions of League One and Morsy inspired the team from midfield as captain.
"The manager [Paul Cook] came in and he's brought his own staff in and they have a set way of playing which suits the players," says Morsy. "At times it was working like clockwork. It's a really great team to be a part of and a great team spirit and that showed with the results on the pitch as well.
"We've got a great team spirit and obviously we've got very good players and that coincided with winning the league as well and having a really good FA Cup run."
Wigan beat Pep Guardiola's Manchester City in the FA Cup fifth round although Morsy didn't play that night. He was suspended for a 10th booking; not an uncommon occurrence for a player unafraid to put in a tackle.
"The squad's stronger this time around and I feel the manager is a lot better this time around," he says. "With the new investment in the club, we'll be giving it a real good go next season."
His caps total for Egypt might not have grown much in the two years or so since his debut – the 0-0 draw with Colombia made it four – but he has stayed in and around the national team picture.
And his capacity for maintaining his place in the picture could not have been timed better. He could have played for Egypt any time over the past 28 years and not made a World Cup. Egypt have suffered; they have been miles off and there have been near misses. As they stacked up the Africa Cup of Nations titles, qualification to the World Cup stubbornly refused to bend to their will.
But Morsy was there that night last October – just outside Alexandria – when Mohamed Salah secured Egypt's place at the finals for the first time in a generation. It sparked jubilation; a once-in-a-lifetime moment that every single Egyptian wanted to be part of.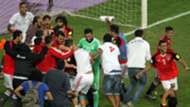 "All my Dad's side of the family are still there," says Morsy. "I'm regularly speaking to my cousins and my uncles about it.
"In the lead up when we were a couple of games away and we were doing well they were telling me how much it meant. Qualifying is like winning the World Cup final. It's been such a long time. We've had to wait so long and now it's finally here."
Salah had scored the first goal against Congo in a game Egypt had to win to guarantee their passage to the draw in Moscow that December. When the visitors sprung an equaliser with four minutes to play, it would be easy to forgive Egypt for thinking that yet again destiny was against them. Out of the blue though Salah got his penalty and stroked it calmly home.
When Congo drew level, Egypt were immediately worried about going away to Ghana and having to get a result. Instead the 2-1 victory took the pressure off and gave Morsy the opportunity to gain his first competitive experience on the field.
"The manager made a lot of changes so it was a really respectable result and it was a good performance," he says.
"The weather was crazy, the humidity was crazy. It gave me a lot of confidence that the manager played me in this game.
"It was a game I really enjoyed and hopefully getting my game I'm earning more of the manager's trust.
"That's what it's all about especially at international level with a large pool of players and the manager has to be able to trust you to do the job he wants you to do."
Morsy then has completed one of the most remarkable tales of any player at the World Cup. James Rodriguez doesn't have Port Vale, Chesterfield and Barnsley on his CV; but Sam Morsy does and he can be proud of it. He's just had the season of his life and, on the brink of the World Cup, the best is yet to come.
"It's been an amazing season," he says. "It's something which has been a long time coming. To be a part of that, to see that, to see what it means to the people of Egypt, and to the players, the staff, it's been amazing.
"We're all looking forward to Russia now and will give a really good account of ourselves."