UEFA Europa League
From De Bruyne to Courtois - How Genk's 'university of football' became Europa League contenders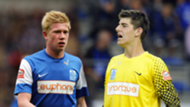 ---
EXCLUSIVE
---
Genk are famously the club that produced some of Belgium's biggest stars including Kevin De Bruyne, Thibaut Courtois, Yannick Carrasco and Divock Origi, but they have managed to remain competitive despite these major player sales. 
This season they've reached a Europa League quarter-final with Celta Vigo despite selling 19-year-old Leon Bailey and 20-year-old Wilfred Ndidi in January for a combined £26.5 million. 
Dybala to sign new Juventus deal
These deals were the biggest in the Bundesliga's winter market and the third-biggest in the Premier League. Patrick Janssens is Genk's CEO and he admits his club are forced into the sales of their academy talent but that they won't relent in their ambition to produce world class talent. 
"Do we consider ourselves a selling club? This is not our ambition but it is the reality," Janssens told Goal. "We look upon ourselves as a club that's a university of football. A club that develops high-quality players. 
"There's not much we can do when they realise how well they are doing and when they realise they can attract top clubs and money. We would rather have them stay longer at our club but it is not always realistic.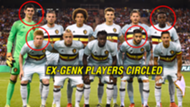 "We have a very good academy that has developed over time. You can see a style of play, a methodology that we developed in those players. It is very technical, not based on power force.
"It is based on football skills, intelligence and a positive attitude to attack. I think for Belgian standards, it is something that we developed well over time. The success we have had has increased the capacity to attract talent from abroad. 
Limited Leicester keep dream alive
"We introduce [players] very quickly into our first team. At the same time, I don't think we can deny it, we had a golden generation at a certain moment in time. 
"There was De Bruyne, Courtois, Benteke and Carrasco shortly after so there must be an element of luck in there as well but I think we used that luck well."
From a player's point of view, Genk represent a side that will give their young players a chance in the first team. The majority of Genk's most-prized former talents are Belgians, but the club is increasingly having success in spotting young talent from abroad.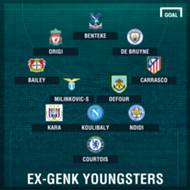 Kalidou Koulibaly was signed from Metz in the French second division, while Ndidi was invited for trials in Belgium after being spotted in his native Nigeria by scout Roland Janssen, who has now been poached from Genk by Manchester United.
Meanwhile, Ndidi has adapted quickly from Belgian football to the Premier League and Champions League, and he thinks that Genk gave him a springboard to success as he prepares to face Atletico Madrid on Wednesday. 
Ronaldo hits 100th European goal
"Genk bring together young players, they try to make them understand football properly, you know," Ndidi told Goal when asked to look back on his Genk upbringing. "It was difficult [when I came in] it was the first time I came to Europe. 
"I stayed with a family who tried to make me feel like I was at home. There were also different managers with different methods, but they always try to keep the players in the first team young and they give them a chance. They train them well and seem to find the right players."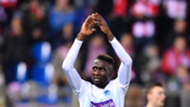 Anderlecht are facing Manchester United in the Europa League while Gent knocked out Tottenham before losing to Genk in the round of sixteen. These successes in Europe are signs that Belgian clubs are starting to benefit as their golden generation improve the standard of their national team.
However, financially Belgium is still incomparable to the big-five European leagues and clubs in Belgium use the game to help local communities rather than seek big television contracts from overseas.
As their Europa League rivals Manchester United celebrated a record turnover of £515.3 million in September, Genk are obliged to run themselves as a not-for-profit organisation, and Janssens explained why he isn't jealous of clubs like United.
"I like to say that we are swimming against the tide," Said Genk's CEO, when asked to compare his side against the top European clubs. "We originated as a club with a community ambition.
"The club has been gradually growing but it has always kept its structure which means no one can buy or sell the club. No one can take money out of it in dividends or whatever. It is not unique historically, but increasingly we are becoming the exception.
"At a time in England where there was a bigger comfort in stadiums, as pay television came in and as the Premier League was formed. We see ourselves as a community club in an era where most of the other clubs are becoming companies."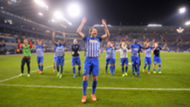 Waterschei, whose greatest success was facing Aberdeen in the European Cup Winners' Cup semi-final, and Winterslag, who humiliated Arsenal in the UEFA Cup in 1981, combined to create the club we now call KRC Genk in 1988. 
The club is now central to community life in the Limburg region of Belgium and Janssens thinks that despite his side's commitment to local issues that football in Belgium is overtaking their neighbours in the Netherlands. 
"I think that as a whole it is moving in the right direction," Janssens added. "The league has become more competitive. I think it is more competitive than the Dutch league as a whole.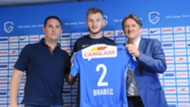 "Yes you have three clubs, Feyenoord, Ajax and PSV which are bigger than any Belgian clubs, in terms of history and stadium size. We do not have those kinds of big clubs in Belgium, but any important Belgian team is able to beat those three.
Adams hires PL has-beens at Granada
"Not easily, not guaranteed, but in the Europa League, in the next round we would want to face Ajax as we believe that we would have a chance. Avoiding Dutch teams is no longer the case. 
"Our team that we have now, especially with the current coach plays the closest to the kind of football we would like to play. I don't think we have one individual who can be as exceptional as De Bruyne. Maybe Bailey was, but he left during the winter.
"I think we have a very young squad with a lot of potential, but as a team and when it comes to the style of play, this is as close as ever to the style we want to play."
Genk will face Celta Vigo on Thursday in Spain before welcoming them back to the Luminus Arena in the following week.