European Championship
Toldo: Italy lacking a superstar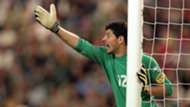 Francesco Toldo does not believe Italy are among the favourites to win Euro 2016 as they are lacking a standout performer, but he is hopeful that their promising youngsters can make an impact at the tournament in France.
Antonio Conte's side finished top of their qualifying group ahead of Croatia and Norway to book their ticket for the finals.
They will meet Belgium, Sweden and Republic of Ireland in Group E, with their opening match against the Belgians in Lyon on June 13.
Toldo was a key figure for Italy when they made it to the final of the European Championship in 2000, but he believes the Azzurri are unlikely to go that far this time around.
"It's going to be tough for Italy. We are below other teams given the general situation now in Italy, not only in terms of sport," the former Inter goalkeeper told Omnisport.
"To be honest, I don't see one single player standing out for us. At this moment we don't have a leader.
"However, Italy is a country full of resources. Conte has done a great job, we have good young prospects. This is our hope.
"The youngsters need to listen to their coach, they've got the talent and the qualities. They need to be self-confident and that will make a difference.
"But it is the team that is important. A single player can't make the difference nowadays. In modern football you have to play as a team for 90 minutes, otherwise you have no chance."
Gianluigi Buffon is likely to be an important figure for Italy at the Euros and Toldo feels they will struggle once the Juventus shot-stopper retires from international football.
"Gigi has cast a big shadow, it's difficult to envisage a keeper other than him in goal," Toldo added. "It has happened in the past with Dino Zoff.
"In Italy, we have some new goalkeepers, but they need to prove themselves at international level."