A-League
Fowler: The A-League isn't as bad as people think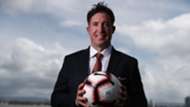 After being appointed as Brisbane Roar coach on Tuesday, Robbie Fowler has defended the quality of the A-League.
The former Liverpool striker will get his first real taste of management next season with the Roar and returns to a competition he graced for two years as a player. 
With some questioning Fowler's decision to begin his coaching career in Australia, the man himself believes the standard of the A-League deserves more credit and will pose a fitting first test of his management credentials.
"This league will get a little bit of stick at times but I loved my time over here," Fowler told Fox Sports on Thursday.
"I think the league's not as bad as what some people think.
"There are some great players...there's some mediocre, average players don't get me wrong, but that's the same with every league all over the world.
"I wanted to come here because it is what it is - it's a challenge."
In Brisbane briefly, before returning to the UK, Fowler has already admitted to talking to certain players he wants to bring to the Roar next season. 
Having himself been lured Down Under, the former Liverpool man admits convincing his transfer targets to move to Australia will require some finesse.  
"Finding a player is not hard but it's getting them here," he said.
"You've got to sell them the dream if you like. Come over here and play football in a lovely part of the world but come and play here for the right reasons - don't be coming here for a holiday.
"Regardless of what level or age you're at, you've still got to come here and be as good as you can be."