African All Stars
Fortuna Sittard refutes Sunday Oliseh's claim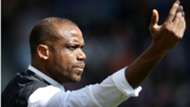 Fortuna Sittard have denied allegation made by Sunday Oliseh that he was suspended because he refused to 'participate in Illegal activities'.
On Wednesday, the Dutch side asked the former Nigeria gaffer to step aside due to his 'inadmissible actions'.
Oliseh responded on Twitter stating that the club took the action because he failed to yield to the unlawful yearnings of its 'foreign owners'.
I confirm: Due to my refusal to participate in Illegal activities at Fortuna sittard & violate the Law,i have been Suspended from my duties as Coach by the Foreign Owners of Fortuna.Unfortunate for the lovely fans, my players & our hard fought phenomenal positioning for Promotion

— Sunday Oliseh (@SundayOOliseh) February 14, 2018
However, the club, in a lengthy statement - released on Thursday - have refuted the allegation made by the ex-Juventus midfielder.
"Fortuna Sittard has taken note of the unsubstantiated allegations made [on Wednesday] in various media by Sunday Oliseh after being on non-active earlier that day," read a statement on club website.
"Although Fortuna Sittard does not wish to go along with accusations in the press, Fortuna wants to fight the accusations made.
"In this context, the club will also take the necessary legal follow-up steps. Fortuna does not recognize itself at all in these accusations, which were not previously ventilated by Sunday Oliseh internally. Something that can be expected in view of the seriousness of the accusations regarding alleged illegal practices.
"Fortuna Sittard chooses to respond once by means of this statement, because many media have turned to her immediately after the accusations made to the club's address."
Fortuna also stated that they would present the case to the arbitration committee of the football governing body in the country, and also explore the option of terminating Oliseh's contract.
"The case will be presented by Fortuna Sittard to the arbitration committee of the KNVB - an independent body - which will now make an assessment of whether there is sufficient ground to terminate the employment contract of Sunday Oliseh.
"Fortuna Sittard is of the opinion that this is the case and will substantiate this in a substantiated way towards the committee. If Sunday Oliseh actually believes that there are illegal practices, then it can be expected that this can be substantiated with evidence in the coming proceedings at the KNVB arbitration committee."