PSL
Former Bush Bucks midfielder Mongi Rula keen to unearth talent through Inkosi Mongi Rula Goodwill Games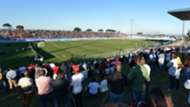 Former Bush Bucks midfielder Mongi Rula is looking to unearth talent in Flagstaff, Eastern Cape through the upcoming Inkosi Mongi Rula Goodwill Games.
Inkosi Mongi Rula, who is now a traditional leader in Flagstaff, will host the inaugural tournament promoting football, Netball and cultural events in the area.
The games will take place at the Ndaliso Sports Ground in Flagstaff on the weekend of 14-16 September 2018. 
There will be a Legends fixture between ABC Motsepe League side Mthatha Bush Bucks and an invitation team, while former Bafana Bafana players such as Cyril Nzama, Thabo Mngomeni, Brian Baloyi, and Jerry Sikhosana will be present. 
"We are looking to promote sports in our area and to identify sports talents from here," Rula told Goal . 
"We are in a rural area, so, we are looking to make people aware of the fact that one can actually make a living from sports as a career. We also looking to attract potential investors and sponsors, who can help take sports in the area to another level," he continued. 
The games are expected to attract a large number of talent scouts from different parts of the country.
"Yes, there will be people, who will be scouting for talent during the three-day tournament. Former Kaizer Chiefs midfielder Abel Shongwe has an academy and he will be present, while the Bush Bucks academy will also be scouting for talent," Rula added. 
"Our biggest challenge in the area is that we don't have sports academies. There are talented players, who just need exposure hence we are staging such a tournament in our town," the retired midfielder indicated. 
Having a club in the Premier Soccer League (PSL) is part of Rula's long-term vision for Flagstaff. 
"Our ultimate goal is to have a club in the top flight league (PSL) from this area. This is the first step in our long-term plan (10-15 years). So, we are working towards achieving that," he concluded. 
Rula also played for Faku Chiefs and Zulu Royals, before retiring from professional football.