Liga MX
Forgotten Furch scores twice as Santos steamrolls America in first leg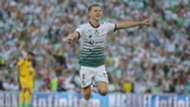 Heading into Thursday's semi-final first leg between Santos Laguna and America, the questions about Santos' attack all focused on Djaniny and Jonathan Rodriguez. Would Djaniny, who left Santos' second leg win over Tigres in the quarter-finals, be fit to play? Could Santos score without Rodriguez, whose inclusion in the lineup gave Los Guerreros a more attacking look before he was sent off? Yes and yes, but it was a forgotten man who everyone was talking about after the game.
Julio Furch scored five goals for Santos during the season, but his double Thursday helped the Torreon team thrash America, 4-1. Now Furch and his teammates head into the second leg at Estadio Azteca with plenty of belief that they can win the series and move into the Liga MX final.
Furch was a big-time signing when Santos salvaged him from Veracruz before the 2017 Clausura, an indication that Santos was willing to spend to reload its attack with players proven in the Mexican first division. He's quietly lived up to the expectations, scoring five goals in his first tournament then adding nine in the 2017 Apertura but doing it for a poor Santos team. This season, Djaniny has stolen all the headlines, but Furch added five goals to the Cape Verde international's impressive haul.
With Santos needing an attacking punch with Djaniny not at 100 percent and Rodriguez suspended, Furch reminded everyone what made him so lethal upon arrival to Mexican soil. Furch got himself into dangerous places and kept his calm — a statement symbolic of the entire Santos team which went into the series as the underdog to No. 2 seed America but now is in control after getting everything right Thursday.
The long shot from outside the box for Furch's first goal caught America goalkeeper Agustin Marchesin off guard. His countryman wasn't expecting any sort of shot, much less one that left his left foot so quickly. 
His second goal came when he checked his back post run and ended up with the ball at his feet after Djaniny and a pair of America defenders missed a cross. He trapped the ball to make sure he wouldn't suffer the same fate, then tucked his shot into the opposite side of the net.
There were some moments where you also remembered why Furch hasn't broken out like some of his teammates. With the match still scoreless in the 13th minute, he blasted an effort over the crossbar when it looked like he'd have the opener. In the second half, he found his name in the book after bumping Marchesin while the goalkeeper was trying to punt the ball, then preventing its exit by blocking the punt.
Overall, though, Santos was happy to have Furch in its ranks. He's a player who will shoot and shoot and shoot but also will get into places where defenders can find him over the top or wingers can play off him.
¡GOOOOL! (53') | ¡La defensa del 'Ame' es un coladero! Furch con mucha calma marca su Doblete y el conjunto lagunero está goleando a las águilas.@ClubSantos 3-1 @ClubAmerica pic.twitter.com/0UJmu0jOYB

— Univision Deportes (@UnivisionSports) May 11, 2018
It was easy to forget Furch during the year. He hasn't scored since a March 3 double against Atlas and only one team he scored against this season made the Liguilla. There he was Thursday, though, making America's life miserable and sending a message that Santos can be more than Djaniny and 10 more.
That's bad news for America, which not only will need to find three goals at the Estadio Azteca to move through but also will need to keep Djaniny, Rodriguez — and don't forget about Furch — off the scoreboard to move into the final.