Gabriel Jesus
Never mind the future, Gabriel Jesus is Man City's hero right now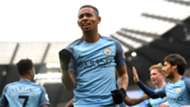 ---
COMMENT
---
For all the hype surrounding Gabriel Jesus' long-awaited arrival at Manchester City, there were cautionary voices warning that the Brazilian, at just 19 years of age, would need time to make his mark.
You can forget about that.
With four very encouraging appearances under his belt, not to mention the three goals - the latest of which rescued City against Swansea on Sunday - he has shown he has the mentality to ensure his vast talents shine through.
Gabriel Jesus surprised by Man City start
Jesus has hit the ground running both on the pitch and off it. He arrived in England at the turn of the year, catapulted from a farewell party with his friends on a beach in Brazil straight into the Manchester cold and post-Christmas gloom. 
The one major uncertainty surrounding the youngster was how he would make the leap, yet he has taken everything in his stride. It is questionable how much you can learn of a person by their social media profiles alone, but Jesus' instagram feed, at that point the only - but very reliable - window into his new life, was constantly updated with videos of his adventures around the city. Whether he was out in the snow, walking down Deansgate or dancing to a street performer's saxophone, there was one constant: a broad smile.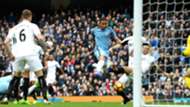 He has brought an army of friends and family with him from Brazil to aide his early development but he has certainly not been shy around his new team-mates. All of City's official Jesus-related media content - and has been plenty of it - showed him laughing and joking with everybody within earshot during his first weeks at the club, whether photographers, translators or Pep Guardiola's first team players.
He has insisted that he takes English lessons every day but he was offering up rudimentary phrases from day one in a bid to fit in and get started. His infectious approach lifted the spirits of everybody at City long before he had even set foot on the pitch and it is no surprise he has made such a huge impact now he has elbowed his way into Guardiola's line-up, kicking out Sergio Aguero in the process.
He can also be considered a contributing factor in Leroy Sane's recent good form, given the "shy" German, as Guardiola put it, struggled in his first few months at the club. But Jesus and Sane have struck up a friendship already and it is hoped that the Brazilian can bring his team-mate out of his shell even more.
That is one aspect of Jesus' game that could never have featured in the all of the Jesus profile articles that were lapped up by City fans over the last few months. Each lauded his quality but there were, understandably, concerns that a young lad leaving his home country for Manchester and English football would need time to adjust and show his best.
Having seen his emergence for Palmeiras and Brazil, regular watchers of the striker knew exactly what he had to offer on the pitch but could never have known how he would fare in his first few months.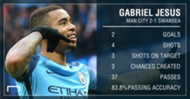 It is safe to say, though, he seems to have exactly the right temperament to be a vital player for City in the years to come. The club's top scouts had been attracted not just by his finishing ability but by his willingness to fight for every ball, though even they were cautious that he would need time to bed in and, of course, improve his game even further.
Yet all of his best traits have been demonstrated immediately and it is impossible to see him giving up his place to Aguero any time soon - unless Guardiola finds a way to fit the Argentine into his team without tinkering with the understanding Jesus has forged with Sane and Raheem Sterling.
The two young wingers were not quite at their best against Swansea on Sunday but Jesus most certainly was. He had been set for the man of the match award before Gylfi Sigurdsson equalised, on the basis that his early goal and all round battling display was yet another impressive performance to go alongside his late cameo against Spurs, first start against Crysal Palace in the FA Cup and full Premier League debut at West Ham in midweek.
But when Sigurdsson threatened to inflict yet another disappointing 1-1 home draw on City, it was Jesus who stepped up and ensured he would grab all of the headlines.
Guardiola turned to Aguero from the bench but it was Jesus who got on the end of Silva's cross to send a header goalwards. The initial effort was reasonably tame in truth and he was somewhat fortunate that Lukasz Fabianski spilled the ball back towards him, but he reacted quickest and gleefully accepted the gift to sweep home a dramatic 92nd minute winner. 
Guardiola calls for time to overhaul squad
He makes things happen and, so far, he has made a huge difference to this team.
There will undoubtedly come a time when living in Manchester becomes more of a mundane reality than an exciting novelty, and if his initial raw enthusiasm begins to dim there may come the kind of fallow period which can befall all of the world's finest young footballers.
But, until this point, Jesus has done more than could ever have been hoped. Never mind the future, he is the right here and now.