Argentina
'Football need Messi to lift the World Cup' - Crespo on his countryman's status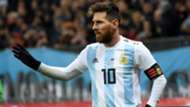 Argentina's success in the World Cup history have always looked to rally behind one individual, from the Mario Kempes led triumph in 1978 to Diego Maradona's one in 1986. Lionel Messi almost did it four years ago and it's safe to say that the Barcelona man will once again assume the responsibility in the coming FIFA World Cup in Russia.
Widely regarded as one of the best footballers the world has ever seen, many still seem to suggest that Messi needs a World Cup triumph like what his predecessor Maradona did, to finally assume his place as the greatest there ever was.
Yet for a former Argentina great who was part of three previous World Cups from 1998 to 2006, Hernan Crespo doesn't think that Messi's detractors will be appeased even if he helps La Albiceleste to the trophy this July 15.
"I don't think it will be enough for some people, so nothing changes. For him and my country, I'm hopeful he wins. Johan Cryuff didn't need to lift the World Cup to be the best in the history. Di Stefano the same. Football need Messi to lift the World Cup but not vice versa," said Crespo after the launch of Astro's World Cup 2018 coverage in Kuala Lumpur, Malaysia.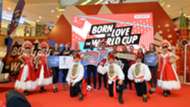 A striker in his playing days, Crespo is no stranger to the unrealistic demands that can sometimes be put on a footballer. Once part of world record transfer fee when he moved from Parma to Lazio back in 2000, Crespo is also fourth in the all-time list of top goalscorers for Argentina.
It wouldn't surprise many to find that the same Messi is the one who leads that particular list, on 61 goals and counting. Whatever deficiencies that Argentina as a team may possess, the quality available in the striking department will not be one.
Sergio Aguero and Gonzalo Higuain, both placed third and sixth respectively in the same list are likely to be joined by Paulo Dybala and Mauro Icardi; a supreme collection of attackers that Jorge Sampaoli has in his arsenal. Even Crespo couldn't decide who might eventually be left out.
"Depends on what Sampaoli wants. If you want to play wide and make cross, I think Icardi is the best. If you want to play in the middle with faster pass, then I think Higuain and Aguero is the best. I don't understand which is our identity. The team that played against Italy or Spain. At this moment, there are a lot of young players but the World Cup is only two months away."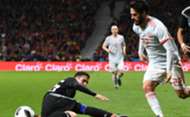 In his first World Cup back in 1998 in France, Crespo was only a bit part player behind the impressive Gabriel Batistuta as he watched his team go out in the quarterfinal at the hands of Holland. Things would fare even worse four years later as Argentina crashed out of the competition in the group stage.
Then in 2006 with Jose Pekerman in charge, Crespo came within a whisker of defeating host Germany in the quarterfinal but would eventually succumbed to the accuracy of the paper details Jens Lehmann held in his hands during the penalty shoot-out.
Recent international friendlies haven't been kind to Sampaoli and his team, a 1-1 draw against Italy was quickly followed by a 6-1 hammering at the hands of 2010 champions, Spain. Despite the big defeat, Crespo is still confident that Argentina's would not end in the group stage.
"I think we are competitive. I don't want to be in Sampaoli's shoes and say who should start or not. I don't think that's the right way to help. I tried to speak only what I watch in the television or at stadium. At this moment, I only want Argentina to be competitive. The bad results conceding six to Spain and four to Nigeria, are matches for the coach to know who should be in the World Cup.
"Argentina depends on Argentina. This Argentina in normal circumstances won't have problem with Iceland, Croatia or Nigeria. The problem will come when we start the first knockout match. We will win the group and go through. We are one of the favourites but we are also one step down from Brazil, Germany and Spain," he added.
Astro is the official broadcaster of the 2018 FIFA World Cup in Malaysia that promises to be the most comprehensive coverage of the greatest sporting event in the world on Astro, Astro GO and NJOI Prepaid. Astro is thrilled and delighted to launch its World Cup Channel Pass which offers all 64 LIVE matches in HD on all screens from 14 June to 15 July. For more information, visit  www.astro.com.my/wc2018 .