Mexico
Five questions the Mexico national team must answer as it arrives in Russia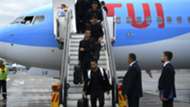 Mexico got off the plane Monday and set foot in Russia once again.
This tournament is far more important than the last time Mexico was in Russia, for the Confederations Cup last summer. Luckily for El Tri manager Juan Carlos Osorio, his team looks stronger now than it did before.
Yet, as we saw in a 2-0 defeat to Denmark on Saturday and during other matches in the build-up to this summer's culmination of the cycle, there also are things he still needs to work on.
Time is running out. 
Let's take a look at five questions Mexico needs to figure out if it's going to upset Germany on Sunday and get on the path to winning Group F (and avoiding a potential round of 16 match against Brazil): 
---
Can Diego Reyes play?
---

First the deadline was the friendly against Scotland. Then it was the next week's game against Denmark. Now, Diego Reyes is undergoing tests to see if he can play at the World Cup.
The Porto defender, who also plays defensive midfielder for El Tri, hasn't been able to recover from a hamstring injury in time for any of the pre-tournament friendly matches. Still, Osorio and his staff are holding out hope that they won't need to replace him on the World Cup roster.
At some point, though, it may be time to consider the versatile player as a lost cause for Russia. Is a Reyes at less than 100 percent really worth the risk of putting him on the field and having him injured once again? Is a 70 percent Diego Reyes that much better than a 100 percent Edson Alvarez?
Reyes' absence would create a tactical issue, but this delay is causing logistical headaches. Pachuca midfielder Erick Gutierrez is the player in reserve, but he can't travel on Mexico's bus or be with the group per FIFA's rules. No doubt Guti can post up in a decent AirBnB in Moscow on the federation's dime, but it can't be helpful for him to not be around the team or know if he'll be included.
---
Will the back line be deep enough?
---

See that guy up there? It's Hugo Ayala. He might start for Mexico against Germany (and yes, I resisted the John Oliver bit of tossing a photo of someone that wasn't Hugo Ayala up there to make the point that unless you're a Tigres fan you may not recognize Hugo Ayala).
Ayala is a fine center back. He's a great Liga MX center back. On the international level, he never has been able to show that he's going to keep opposition attackers in check. With Nestor Araujo out of the tournament because of difficulties in recovery from a knee injury, combined with Reyes' hamstring injury, Mexico's defensive depth is a big concern.
There were serious concerns raised about Rafa Marquez, Jesus Gallardo and Ayala during the defeat to Denmark. Marquez was not positionally sound and at age 39 doesn't have the speed to recover when he's caught out of place. Marquez seems set for a cameo role as a midfielder in one of the group matches. So what do you do at the back?
Maybe the Denmark match convinces Juan Carlos Osorio to put Miguel Layun in defense, and Carlos Salcedo remains the likely starter at right back. With Hector Moreno not a concern at left center back, maybe El Tri can get by with Ayala or young Edson Alvarez filling the spot. If another player goes down, though, or if Osorio decides to use Layun in a different spot, things could get iffy for Mexico's defense and make for a long tournament for goalkeeper Guillermo Ochoa.
---
What happened to the goals?
---

It's a bit difficult to compare different years, as 2018 has been much different from 2017 in terms of the type of matches played, approach taken and the ultimate goals of each match. Still, when we look at the six matches played this year, Mexico has scored multiple goals just once. El Tri did it three times in the first six matches of 2017 and scored in every single game the A team played all last year (the Gold Cup squad was shut out both in a friendly against Ghana and in the quarterfinal defeat against Jamaica).
Between Saturday's loss to Denmark, the scoreless draw against Wales and a 1-0 defeat to Croatia in March, El Tri have failed to score in three of their last four games. What happened to the team that made a habit out of finding the back of the net? It seems to come down to a lack of finishing. Mexico is creating chances in the games it's playing - even against Denmark there were good opportunities with Chicharito hitting the post late standing out as a chance that probably should've been converted.
With Chicharito, Hirving Lozano, Carlos Vela and Raul Jimenez in the squad, scoring shouldn't be an issue. Yet, it clearly is a concern for El Tri heading into group play where goal difference could be a deciding factor.
---
Are there any distractions?
---

Chicharito went on a live stream and cleared up some things about the party many players in the national team took part in after the June 2 send-off match against Scotland. The forward said he hopes it's the end of the talk about the party, during which a tabloid alleged more than 30 escorts were present, something Chicharito refuted.
We know there are no punishments coming from the FMF for the soiree, which took place on the players' last day off before the tournament. Will there be further consequences, though? Hector Herrera took a personal day after being photographed welcoming several female guests, and reports from Fox Deportes went as far as suggesting he may have considered leaving the squad to tend to family matters. Herrera started Saturday's 2-0 defeat against Denmark, and it looks like he's in it for the long haul.
The controversy, like the party, took place far enough in advance of the World Cup that everything mostly has blown over as the team gets down to business. For now, Osorio has to hope nothing else emerges that could take his team's focus away from Sunday's game against Germany and the subsequent group games.
---
Is El Tri good enough to get to the quinto partido?
---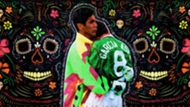 It's the question asked ahead of every trip Mexico makes to the World Cup. Will this be the tournament in which El Tri breaks through and makes the fifth game?
Is it all mental? Is it a lack of talent? We examined the question in depth.