U17 World Cup
FIFA U-17 World Cup: Kochi in hot water with FIFA over shops in stadium complex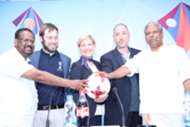 Greater Cochin Development Authority (GCDA), the body which owns the Jawaharlal Nehru International Stadium in Kochi which is one of the venues scheduled to host the upcoming FIFA U-17 World Cup from October 6 to 28, has landed in hot water with FIFA over non-adherence to the guidelines regarding shops inside stadium complex.
The football governing body had earlier demanded all business establishments inside the stadium complex to be shut down for a specific period that lasts until the end of the tournament that takes place in October.
The owners of these shops which have been a part of the stadium complex for a long time were clearly against such a closing down and took the matter to the High Court of Kerala.
A directive was sent by the city authority for the temporary closure of these shops but a petition was filed against it in court by the shop owners. The court acted on this petition and asked for an explanation on this shut-down.
FIFA have been very strict about the local organizers' adherence to their guidelines so far and a worst case scenario could see a shift in venue. Another statement from the High Court is expected tomorrow.
Goal spoke to Kerala Football Association (KFA) Secretary Anil Kumar about the recent developments on this issue and he said, "We [KFA] have nothing to say on this matter. We are not an involved party in this issue."
Speaking to Goal, Mohammed Hanish IAS, the nodal officer for the tournament in Kochi said, " We are waiting for the decision by the court tomorrow. We have only made oral observations regarding this issue."
An official statement by the Local Organizing Committee (LOC) read:
"We are aware that currently there are legal proceedings ongoing in the High Court of Kerala between the Greater Cochin Development Authority (GCDA) and various individuals engaged in running commercial activities in the premises of the Jawaharlal Nehru International Stadium (JNI Stadium) in Kochi. Since the matter is currently the subject of a litigation under review by the Hon'ble High Court of Kerala, we believe it is not prudent to make any particular comments about these proceedings. This is a matter between GCDA and the individuals concerned, and we hope that a suitable resolution for both parties can be arrived at. We have a contract with GCDA regulating the use of the JNI Stadium for the FIFA U-17 World Cup tournament and we have been given assurances by the State Government of Kerala that all contractual commitments and obligations will be respected."
Kochi is scheduled to host a total of eight matches, including the opening day group game on October 7 between Brazil and Spain, the tickets for which have been sold out. FIFA are set to take over the stadium on September 20.