Gaming
FIFA 18 Ultimate Team of the Week: Bale, James Rodriguez & Lingard star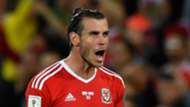 Gareth Bale, James Rodriguez and Jesse Lingard lead the FIFA Team of the Week after the international break.
This week's 23 comprises players who have performed well for their countries over the last fortnight, with Bale impressing for Wales.
Real Madrid's Bale scored a hat-trick in his country's 6-0 win over China in the China Cup, while Rodriguez, who is a team-mate of the Welshman, but is currently on loan at Bayern Munich, helped Colombia come from 2-0 down to beat France 3-2.
Elsewhere, Jesse Lingard features after scoring his first goal for England against the Dutch, while Kyle Walker impressed as he was deployed as a centre-back in the same game.
That earns Walker a two-point upgrade from his base 84 card, and means that there is now an 86-rated centre-back with 91 pace available in the game.
Ricardo Quaresma earns an upgrade after assisting Cristiano Ronaldo twice in injury-time of Portugal's 2-1 win over Egypt.
Liam Walker, of Notts County, is included in the reserves after scoring in the 88th minute to give Gibraltar their first ever win, a 1-0 triumph over Latvia, and become his country's leading goalscorer, with three!
---
STARTING XI
---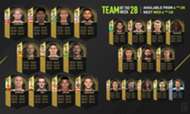 GK - Schmeichel - Leicester - 83>86
LWB - Alaba - Bayern Munich - 86>87
CB - Miranda - Inter - 86>87
CB - Walker - Manchester City - 84>86
CM - Iniesta - Barcelona - 87>89
CAM - Rodriguez - Bayern Munich - 86>88
CM - Paulinho - Barcelona - 83>85
LM - Quaresma - Besiktas - 83>87
CF - Bale - Real Madrid - 89>91
CM - Lingard - Manchester United - 80>84
LW - Arnautovic - West Ham - 82>87
---
BENCH
---
GK - Al Mosailem - Al Ahli - 71>78
LWB - Kolasinac - Arsenal - 81>85
CB - De Ligt - Ajax - 76>86
CAM - Aboubakar - Porto - 80>84
LM - Dzemaili - Bologna - 78>82
RW - Layun - Sevilla - 78>82
ST - Kamara - Columbus Crew - 75>81
---
RESERVES
---
LWB - Oviedo - Sunderland - 72>79
CM - Walker - Notts County - 67>76
ST - Wright-Phillips - New York Red Bulls - 75>81
ST - Coronado - Palermo - 70>78
ST - McNulty - Coventry City - 64>74