PSL
Feature: Footballers investing in their future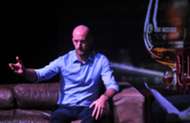 Football, fame and fortune, these the key aspects which epitomise modern day professional football.
While the influx of money poured into the game has undoubtedly benefitted football, giving many of those who do go on to make the cut a true rag to riches story, there is always an ugly side which rears its ugly head when excessive sums of money are thrown into the mix.
Recklessness, greed and destitution are only some of the words which come to mind when seeing footballers who once were regarded as being in the upper echelons of society, now down on their knees wondering where their next meal will come from.
This is particularly apparent in the African context, where players who do not only have the responsibility of looking after themselves but may also have extended families to tend to financially have that extra burden to carry around. That isn't to say though, that there aren't wealthy African footballers, as the likes of Asamoah Gyan and Didier Drogba have shown, destitution is certainly not the only answer.
However, while the African issue is alarming, on closer inspection of the statistics it is quite obvious that destitution after football is not limited to the African continent but is a worldwide phenomenon, according to 2013 article in British publication The Independent.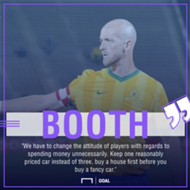 "A study by XPro, a charity for ex-players, suggests that three out of five (English) Premier League players – who earn an average of £30,000 (R553440) per week – declare bankruptcy within five years of retirement," the article was quoted as saying.
This is a stark reminder of how difficult the transitional period from being a star footballer to an ex- pro can be if a footballer has not adequately planned for the future. What is also a massive cause for concern is that the Premier League is one of the top five leagues in the world and when one looks at players who ply their trade on the African continent, where the money in football does not come anywhere near the billions found in England, Germany and Spain, it does indeed paint a bleak picture.
One only has to look at the South African football's topflight, known as the Premier Soccer League (PSL). The PSL is highly regarded as one of the continent's richest leagues but yet we find players who had enjoyed successful careers now in the doldrums.
It is also important to note that although a football player's career might be considered lucrative, considering how short a football player's lifespan is, the money is not necessarily sustainable and will in all likelihood run out at some time during their life, unless they have invested wisely.
This is why former footballers such as Matthew Booth , Delron Buckley and several other ex-players have come to the fore of recent times, becoming advocates for change, and in an exclusive interview, Goal spoke to the Former Mamelodi Sundowns star Booth, who shared some interesting insights on the issue and the day-to-stay struggles of everyday footballers.
Booth had enjoyed a largely successful career both in South Africa and abroad, and as he now enjoys the fruits of his labour, he is certainly under no illusions of the struggles which the newest brass of South African and African talent face.
While Booth admits that unlike most footballers in South Africa, one of the reasons he finds himself in his current position is because he was fortunate enough to come from a middle-class family where an education and a solid support system are the social norms. But as Booth describes himself as an "anomaly", he also recalls reminding himself that a footballer's career is short and that anything could happen at any time.
"Majority of our players come from lower class, working class families," Booth told Goal.
"I saved and I wasn't overly excessive with my spending," he added.
However, one of the key factors which has seen many South African footballers scrummaging through the barrels of poverty is the need to keep up the status quo and live beyond their means. Booth agrees with this assumption and explains that this is a huge issue in football especially as South African footballers on the continent try to emulate the lives of their European counterparts despite being unable to do so for a number of factors.
"As human beings, we like to show off first of all, and then as footballers there is even more pressure because of the lifestyle in England or in Europe, and that gives that impression here that you should also live in that manner. But of course, here the salaries are vastly different," Booth explained.
"There is this idea that when your face is shown on a magazine or on TV then you are earning millions. There's also the extended family pressure, wherein for a middle for upper class person you would just have to look after your immediate family and yourself perhaps, whereas your lower LSM (Living Standards Measure) have to deal with a larger extended family and friends.
"In other words, you should really be saving sooner than the normal person, and often as footballers we miss that point. Whereas a guy who works a nine to five job and can retire when he is 65, he can start seriously saving a little bit later. Whereas our point of departure really starts as soon as we start playing professionally.
The 40-year-old further iterates his point, stating that having a plan of action for a footballer's retirement is necessity.
"It's vitally important, the last thing you want to do is sit at home doing nothing. You've got to prepare as soon as you signed your first contract for the afterlife and you can't wait for the last couple of years to set yourself up. You have to do it a lot sooner, and there is very few people in this country who can earn enough to retire on at the age of 30-35, so players need to realise that. Plus, you can't play golf or sit at home the whole day doing nothing. You need to fill that void somehow," he said.
Meanwhile, the issue of who is to blame for players falling into the trap of destitution is up for debate. Many arguments have been made which suggest that clubs and the relevant football authorities should be held responsible, but Booth holds a slightly differing opinion.
"The players can't really blame clubs anymore because ultimately clubs are businesses and once you are not valuable to them they are not going to be concerned with you. So, players need to realise that and start looking after themselves," he continues.
"If the league values us as products, they should be concerned with the end product, because I very rarely see rugby or cricket players ending up in the same manner, and this is largely due to the fact that they come from private schools and they have a university education. They have an old boys network where they can get into business very easily once their playing days are over, and footballers don't have that network. If the league is concerned with the final product, the way we conduct ourselves after our playing days then they will spend the money.
"But I don't think that is going to happen anytime soon. So, I think the responsibility falls in the laps of the players themselves, their agents, close family, their friends who really care for them and perhaps even the players union. I think that group of people should take it up and make it their own responsibility to look after the situation," he stated.
The importance of education in this conundrum can surely not be underplayed, and with a huge portion of South African footballers having only achieved a grade nine or primary school education, therein lies the problem.
Booth has called for a reform of the South African football system in terms of its emphasis on education whether it might be on the schooling front or better financial management.
"You generally find Ajax (Cape Town), SuperSport (United), (Bidvest) Wits, clubs who run their academies very well produce better products, more holistically developed players. In Europe, virtually every club has that system. But I still don't think that is enough. Financial management should be hammered into players. Psychologists should be brought in to make players realise that they don't have to keep up with the Joneses, and it shouldn't be about status and what car you drive. Here in South Africa that's a massive issue. Looking the part, when in actual fact you can't really afford to," Booth lamented.
Booth himself is currently pursuing tertiary education through Unisa (University of South Africa).  
"Ideally you want to do it (tertiary studies) as soon as you leave school, but a lot of the time players don't even finish their schooling because they need to start making money and looking after their families. So, that's a huge issue. This is where clubs should be encouraging their players to finish school.
"I always encourage a youngster to pursue some sort of tertiary education of some sort," he emphasised.
Another common issue which plagues footballers is the issue of friends. There can be no better description than that of the famous proverb which states 'when days are dark, friends are few'. In many cases there have been South African footballers who have revelled in the glory of having many so-called friends, but only once the funds have dried up does the player realise who his true friends were.
"You have to have pursue your dreams, but at the same time be very realistic about it. In my experience, I have had players fall by the wayside who were a 1000 times more talented than me, and it was just that I surrounded myself with the right people. I think that is a huge issue with most professional athletes in South Africa. You have to surround yourself with people who want the best for you, and players who start off with their friends at the beginning of their career ideally should end up retiring with those friends. A lot of the times those friends tend to drift away once the money starts to run out and the good times are over," Booth said.
Lastly, Booth's parting advice should be a call for one and all within the football fraternity to step up to the plate.
"We have to change the attitude of players with regards to spending money unnecessarily. Keep one reasonably priced car instead of three, buy a house first before you buy a fancy car. So, that image or that status thing we need to try and change it somehow. That comes through education, psychologist or financial advisor, and we can't rely on the clubs to do that. The players have to realise that themselves and the agents also have to help the players in that regard. Agents can't just be seen helping the player when their contract runs out. It's an all-round job," he concluded.