WTF
Fake news alert! The amazing world of Patrice Evra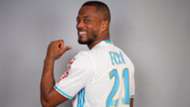 Patrice Evra is a happy man – we know this, you know this, everybody knows this.
And why is the former Manchester United defender always smiling? Well, wouldn't you be if your life involved playing a bit of football and hanging out with monkeys!
The France international really does appear to operate in a different world to the rest of us, with the video above also including tales of how the experienced full-back once used chicken fillets as injury prevention.
He wore them in his boots, apparently, not as shin pads!
Liverpool manager Jurgen Klopp and his Manchester City counterpart Pep Guardiola also make an appearance in Goal's Fake News, ahead of a big weekend for both bosses in the Premier League.
Go on, check it out!