South Africa
EXTRA TIME: Watch Vera Pauw and Janine Van Wyk reunited at Houston Dash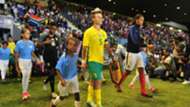 Vera Pauw was a Dutch international soccer player who has excellent experience with the South African women's national team at the 2016 Brazil Olympics and the semifinals of the African soccer championships in 2014.
"Soccer is an evolving sport here in the U.S. with a unique background, and I am very excited about the opportunity ahead to work with a very talented roster," Pauw told Houston Dash media.
"We have a solid core of players that will be key in reaching our goals for 2018 and beyond."
Here's how Banyana player Janine Van Wyk reacted to the news. Watch this video highlighting how the Banyana connection will be in Houston.
Mutual respect between @verapauw and @janinevanwyk5 #DashOn pic.twitter.com/trtQCA5pXr

— Houston Dash (@HoustonDash) December 1, 2017
So excited to work with @verapauw again. I have no doubt that she is the perfect coach for the job. Her knowledge of football is incredible & i believe that the players & the club will learn so much from her... Dash fans, get ready for next season  https://t.co/VQuLvMyxvj

— Janine Van Wyk (@Janinevanwyk5) November 28, 2017
Thanks Janine, looking forward to work with you too! #DashOn @Janinevanwyk5 https://t.co/39Tvc6GXOa

— Vera Pauw (@verapauw) November 28, 2017
No idea! https://t.co/kVJRkUujzQ

— Vera Pauw (@verapauw) November 28, 2017