WTF
EXTRA TIME: Watch Khune show off his catch against Sundowns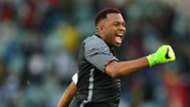 How many fans believe Khune is making a meal of this catch? 
On one hand it looks like a great catch, but on the other hand we wonder if Khune sometimes overdoes the style of his catches?
The Bafana Bafana keeper's catch does look like an action piece from a cricket game where you celebrate a catch to dismiss a player, a key event in the game.
In football you see great keepers boast great saves, but one struggles to remember them boast about catches. 
Here's the catch. Worth making a big deal over? Then retweet it.
When God is with you,he has all the control #NikeGloves though #TeamNike #Team16_32 #TeamNoRest #Distribution101 #KhuneLegacyTournament pic.twitter.com/0TS64lgyIb

— IIKHUNE3216 (@IIKHUNE_32_16) April 2, 2017