WTF
EXTRA TIME: Watch Ajax Cape Town's chain training mimic Zuma protest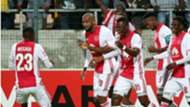 Capetonians formed a human chain from Parliament to St George's Cathedral in protest against South Africa's President Jacob Zuma.
The "holding hands" picket began outside the gates of Parliament down to Plein and Spin streets, and had continued to Adderley and Wale streets to the cathedral.
The human chain most probably inspired PSL soccer club, Ajax Cape Town's players to invent their new training video. Watch and decide for yourself.