WTF
EXTRA TIME: Van Wyk's Houston teammate Levin visits SA and tribute to Dlamini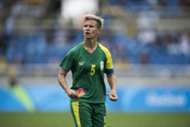 Van Wyk is sad that her former national teammate has retired, otherwise she is also showing her Houston teammate around South Africa.
Here's to the future! Van Wyk must be telling her American friends good things about this country.
Back to Amanda Dlamini's retirement: Here's also a view from interim head coach of Banyana Banyana, Desiree Ellis, who has described the retirement of Amanda Dlamini from the national team as a sad day for women's football.
Dlamini, a former Banyana Banyana captain, hung up her international boots on Tuesday, 9 January 2017 after a long career spanning 11 years, where she earned 105 caps.
She is only one of six players reach the milestone century of matches for the South African Senior Women's National Team – other are Portia Modise (retired), Janine Van Wyk (current captain), Noko Matlou, Nompumelelo Nyandeni and recently Nothando Vilakazi.
"This is a sad day for South African women's football because Amanda has been an integral part of the game for so long. Her name was synonymous with the Banyana Banyana. And even though she had long relinquished the captain's armband, many still refer to her to this day as the captain of Banyana Banyana because of her contribution to the growth of the national team," said Ellis.
"It is also sad to see her depart the scene because I have known her since she was young and have seen her grow. Amanda has been an icon and a role model to many players, especially the young ones. We will surely miss her presence as she had a lot of influence both on and off the pitch. She has left big shoes to fill and we are hopeful that with the talent that we have, we will find someone to run with the baton."
Ellis adds that this is the most difficult period for any player, when to call it quits.
"I must admit this is not an easy decision to make, and as a former player I know because I have been there. As a player there comes a time when you feel the passion is still there but the drive is no longer the same, and you spend weeks and even months thinking about whether to retire or to continue. It is a brave decision she has made and I must commend her for making a decision," added Ellis.
Dlamini was called up for the upcoming international friendly match against Sweden in Cape Town on Sunday, 21 January. She was part of a squad of 26 players.
"After a year's absence from the national team, we were looking forward to working with her again in the Sweden match, it is unfortunate that she had to go now. I can only wish her all the best in her new adventure. She is a magnificent player and we will miss her contribution on and off the field," said Ellis.
"In her place we will call up Xolisile Mnikathi of Sunflowers in KwaZulu Natal. She was one of the shining stars at the 2017 Sasol League National Championship in Nelspruit."
Trained with my @HoustonDash teammate Cami Levin this morning while she is out exploring my beautiful Country 🇿🇦 pic.twitter.com/M68zq1iuSb

— Janine Van Wyk (@Janinevanwyk5) January 10, 2018
Dear @Amanda_Dlamini9 , my #9 pic.twitter.com/v2lsPfMtZN

— Janine Van Wyk (@Janinevanwyk5) January 9, 2018
To me there is a difference between people that love football & people that are passionate about football.
Everyone loves to watch, to play, to talk football but the passionate ones LIVE for it.

— Janine Van Wyk (@Janinevanwyk5) January 11, 2018
Flooding the internet with pictures and memories of @Amanda_Dlamini9 following her announcement of retirement from @Banyana_Banyana pic.twitter.com/s2bEoF1GmL

— JVW Girls Football (@JVWGirlsFootbal) January 9, 2018