South Africa
EXTRA TIME: Twitter reacts to Sadio Mane's return ahead of Bafana vs. Senegal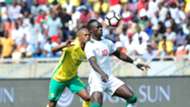 The speedster Mane started for Liverpool in a 4-1 victory against West Ham United on Saturday evening.
After being out with a hamstring injury, he was expected to be rusty in his first game. However he surprised everyone for starting the game on Saturday, when the original feeling is that he'd be out for at least another two weeks.
Jurgen Klopp's hailed Mane as a machine with the way he's healed ahead of time, and was back to his powerful, speedy self in London. That was the game time he required to get back into the groove ahead of the qualifier against South Africa.
Senegal could qualify for Russia 2018 if they draw against Bafana Bafana in Polokwane on Friday night. Here's a mixture of the fan reaction from Mane's recovery, to his performance for Liverpool against West Ham. 
We also throw in a few bonus Tweets about his partnership with Egypt forward Mohamed Salah, while the two African stars were both nominated for the Caf Player of the Year award.
15 million people in Senegal breathed a sigh of relief as Sadio Mane came off... #LFC #WCQ

— John Bennett (@JohnBennettBBC) November 4, 2017
Sadio Mane! Returns after a five-game absence to be typically decisive with two assists. Always applies intelligence to his explosiveness pic.twitter.com/ClOK8Kolh6

— Melissa Reddy (@MelissaReddy_) November 4, 2017
Sadio Mane starts for Liverpool at West Ham.

— James Carroll (@James_Carroll84) November 4, 2017
Sadio Mane returns two weeks early from a hamstring injury. Man's a machine. pic.twitter.com/iJ0LsD3wCy

— Paddy Power (@paddypower) November 4, 2017
Sadio Mane is World Class. 1 month out, straight back in like he'd never been away. 2 valuable assists.

— Taintless Red (@TaintlessRed) November 4, 2017
When Sadio Mane sees a fullback. https://t.co/ixl5WNQ7iG

— Sam (@VintageKIopp) November 4, 2017
Being totally serious though, how on earth is Sadio Mane fit

— - (@Lallanaism) November 4, 2017
Me moving to Senegal and changing my name to Ndeye Doudou pic.twitter.com/d8EdCB3P9I

— Sarah 🇸🇸 (@siimplynubian) November 4, 2017
Klopp on Mane going away on international duty: "We are trying to get in contact with Senegal FA. Is he 100% fit? That's different."

— James Pearce (@JamesPearceEcho) November 3, 2017
Exclusive footage of Sadio Mané & Mohamed Salah on the first goal counter attack  pic.twitter.com/eLQPKzPUNQ

— LFC Transfer Room (@LFCTransferRoom) November 4, 2017
Sadio Mane and @22mosalah nominated for African Player of the Year: https://t.co/VhLtqHXVsu pic.twitter.com/DiRzNmw4BY

— Liverpool FC (@LFC) November 1, 2017
It's fair to say Jürgen Klopp was pleased with Sadio Mane's return to training this week  pic.twitter.com/3L14S9ErQ2

— Liverpool FC (@LFC) November 3, 2017