Kermit Erasmus
EXTRA TIME: Twitter reacts to Kermit Erasmus' transfer to Eskilstuna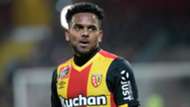 Most fans are wondering why he chose to play for a second division Swedish team, instead of returning to the PSL.
They've made their own conclusions on this transfer and you can read them on Twitter below. What do you think of Erasmus' transfer? 
Should he have returned to the PSL instead and where?
Kermit Erasmus signs for Swedish team AFC Eskilstuna, which is in Sweden second division.

I'm guessing Swedens Second Division is way better then The #AbsaPrem

— Lerato Mbongo (@AndImLee) March 27, 2018
Kermit Erasmus signing for the Swedish second division instead of coming back to the PSL should tell you a lot about how far behind we are.

— Son of Zeus.  (@Lord_Syclonic) March 27, 2018
"It was a tough decision to take, but there is a good opportunity for me to play again. I have not played football in a couple of months, so I'm feeling good. Just happy to do what I love again." - Kermit Erasmus (after signing a 2-year-deal with Swedish side AFC Eskilstuna) pic.twitter.com/9xY0qRlj8k

— Gagasi FM Sports (@GagasiFMSports) March 27, 2018
Was Kermit Erasmus really that desperate? 2nd division?? Must be a case of Rands vs Euro 💶

— Theko Ntuli (@Mang3l0) March 27, 2018
Kermit Erasmus has the ability to become one of the best strikers this country has ever produced, I mean "had"

— L I V E  (@LongLive_TP) March 27, 2018
Kermit Erasmus signing for, whatever he signed for, is alarming.

Should we acknowledge that our football, though unique, is no where near the top teams in the league except for in revenue?

— Iron duke (@Iron_Duke89) March 27, 2018
Saw Kaizer Chiefs & Kermit Erasmus trending at the same time thought we've got our man but ahhhhh . Too ambitious maybe ?

— Future/FREEBANDZ OVO (@ThaboZondo1) March 27, 2018
Kermit Erasmus joins AFC Eskilstuna in the Swedish second division. Is that division better than the PSL? Or he moved because of the moola? pic.twitter.com/Tx4Hs9c5U9

— Teddy_T_Manyuha (@TEDDYMANYUHA) March 27, 2018
Is playing and doing well in the Swedish 2nd tier a better chance of moving to a top EU league than doing so in the PSL for Kermit Erasmus?

— Negrophile (@Bo_Bradee) March 27, 2018
Kermit Erasmus should have just joined Orlando Pirates

— PABALELO (@KingFoxZA) March 27, 2018
Kermit Erasmus should come back home,this is sad frm playing in big league to second division #Kermit

— RE KAO FELA (@MavundlaMenzi) March 27, 2018