WTF
EXTRA TIME: Read Nelson Mandela's letter to Andre Arendse before the World Cup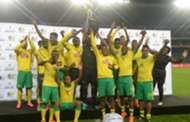 The letter was written by Madiba when South Africa were about to make their World Cup debut at France 1998.
Arendse had gone 693 minutes without conceding a goal at international level, so Mandela took the opportunity to praise the keeper.
In the World Cup South Africa crashed out in the group stage and were mostly embarrassed by the 3-0 defeat to France. Though, it was tough against the hosts and Bafana were clearly nervous on the night. 
Even though SA failed to progress, they didn't do too badly in drawing their next two games, 1-1 against Denmark and then 2-2 against Saudi Arabia.
It was mostly a frustrating experience since a good victory against the Saudi Arabians, could've taken Bafana through.
No matter the results, as you can see, this is a letter received before the tournament that Arendse will always cherish. It was posted in memory of Madiba on Mandela Day on July 18.
Still a huge honour having received this acknowledgement from our late Icon and father of our nation #MandelaDay #BackInTime pic.twitter.com/9e85z0GaZD

— Andre Arendse (@TheAndreArendse) July 18, 2017