South Africa
EXTRA TIME: Janine Van Wyk supports Caster Semenya during court hearing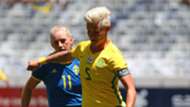 Former Olympic champion Caster Semenya has pointed out to the IAAF that their limitations on her testosterone limit are 'flawed' and 'hurtful' to her.
Semenya's lawyers are taking on the IAAF's legal team at the court of arbitration for sport. The big question is how the sporting field will be level while Semenya feels discriminated against.
"Ms Semenya believes that she and other women affected by the regulations should be permitted to compete in the female category without discrimination, and celebrated for their natural talents as are all other athletes with genetic variations," read a statement from her legal team.
"The IAAF's regulations do not empower anyone. Rather, they represent yet another flawed and hurtful attempt to police the sex of female athletes. Ms Semenya's courage and perseverance in her fight to run free is an inspiration to young athletes in her home country of South Africa and around the globe."
During the hearings South Africa's athletics star has received support from Banyana Banyana captain Janine Van Wyk. You can read the soccer player's support from Twitter here.
You are an inspiration to many. You have overcome many obstacles & challenges.This is just another one to fight, but this time u not fighting alone. Your fellow South Africans are behind you during this difficult time of ur career. 🇿🇦 #HandsOffCaster pic.twitter.com/25NuzQUt2R

— Janine Van Wyk (@Janinevanwyk5) February 19, 2019