PSL
EXTRA TIME: Delron Buckley's still inspiring South Africa's young players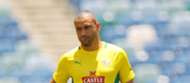 The Cape Town club was appreciative of Delron Buckley, who shared his priceless experiences with their players.
In Buckley's book, he wrote about how on his return to South Africa he was deemed too old to play for South Africa's biggest clubs. The former Dortmund player was critical of those who believe once a player reaches 30 he is past his best.
That's an ironic point when you consider Ajax is a club that loves to sell their older players and is proud of building their youth system. Nevertheless, Buckley also had some brilliant experiences to share with the younger players.
This program was timed very well, just after World Mental Health Day on October 10. One of the subjects of the book is fighting depression in sport.
At Ikamva as @DelronB talks to the @ajaxcapetown players about his life, career and challenges... pic.twitter.com/i4Cw3jNA0k

— Rob Delport (@FMSouthAfrica) October 12, 2017
Thanks 4 coming out & was gr8 meeting u @Stephan6forever. Hope u enjoy my book

— Delron Buckley (@DelronB) October 12, 2017
Thank you to former Bafana Bafana international Delron Buckley for the amazing insight into his career.

His autobiography is a must read!🇿🇦 pic.twitter.com/8oMXrbuTKQ

— Ajax Cape Town (@ajaxcapetown) October 12, 2017
Really interesting listening to @DelronB on the high & lows of his career. Thanks @brucenadin for inviting me to share the experience. pic.twitter.com/gpMoEXlQsO

— Rob Delport (@FMSouthAfrica) October 12, 2017
@DelronB can write a new book just about yesterday

Toured Langa: met #GarethNcaca & Brenda Fassie's brother!

Can't wait for tonight! pic.twitter.com/g6MfWxH28c

— Diski Nites (@DiskiNites) October 12, 2017