Orlando Pirates
EXTRA TIME: Orlando Pirates fans want Bibo to return to action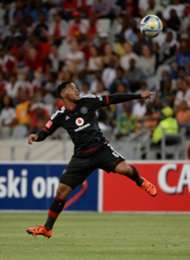 At the time the South African Institute for Drug-Free Sport (SAIDS) released the following statement, and now two years later Orlando Pirates fans are hoping that the player, nicknamed Bibo can return to the pitch soon.
SAIDS CEO Khalid Galant released this statement in 2016:
"SAIDS has an onerous responsibility to ensure that a clear message is sent to all South Africans about anti-doping. There is no choice in the matter. Every sporting code, every athlete, is subject to the code and it should by now be obvious to everyone that transgressions place individuals, institutions, and countries at risk." 

"SAIDS performs its work in terms of clear rules. These rules are approved by the World Anti-Doping Agency and they are implemented in accordance with rigorous international standards. Athletes are entitled to hearings, which are independent and fair, if an adverse analytical finding is returned as a result of a test. If they are unhappy with the outcome of the hearing they are entitled to an appeal before a statutory appeal board, which is itself also independent.

"In South Africa in 2016 we cannot afford reckless commentary which places athletes at risk through confusing messages. These include allegations being made of conspiracies or that SAIDS, and/or WADA, and/or the fight against doping somehow contravene fundamental rights enshrined in the South African constitution."
#BringBackBibo @SAFA_net @OfficialPSL @Soccer_Laduma @KickOffMagazine A mistake was made.... lesson learned. Can we have the talent back on the field, He is human after all pic.twitter.com/VKxZAJ641z

— Thabo September (@Thabo_Sept_26) April 23, 2018
#bringbackbibo Hai enough is enough  https://t.co/yuTmjHgNuj

— Sean Hlabangwana (@Sean_Cooldad) April 23, 2018
Please #Forgivetheboy #BringbackBibo@OfficialPSL @Soccer_Laduma @RealNtshumayelo deserves a second chance, we miss him pic.twitter.com/9EmS4aCjp7

— Nkululeko Sankenke (@Freedom_Yeye) April 23, 2018