WTF
EXTRA TIME: Baxter to outline his Bafana plans on Monday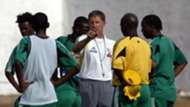 Bafana fans took to Twitter to complain about the way Safa handled the appointment of a new coach.
It is time that everyone calmed down and got behind Stuart Baxter. So, it is about time Baxter addressed the South African public to help himself. 
That will get the supporters focused on his vision and plan for South Africa ahead. In order to make these plans he had to be thinking about them while coaching SuperSport United, so we wonder what the PSL club has to think about that since their form went downhill once his talks with Safa began.
New Bafana Bafana coach to outline his plans on Monday... https://t.co/RwbbRdj9oT

— SAFA.net (@SAFA_net) May 11, 2017
SAFA deputy President stil waiting for a briefing abt the national team coach who's already appointed , who appointed Baxter? @robertmarawa

— (@Mthiimkhulu) May 11, 2017
@robertmarawa Sad. You are taking Wits to task for SAFA's ineptitude! How do you ask a club that pays player's salaries to put SAFA first?

— Africa Unite (@AfricaUnite051) May 11, 2017
These old leaders need to retire serious. Baxter has was made Bafana coach again, now it's Molefe made Eskom CEO again... Nah!

— ThembaRtiztikNdlovu (@Rtiztik) May 12, 2017
Kaizer Motaung is busy implying that Baxter will fail at Bafana yet his current coach has never won any trophy in his career #AbsaPrem

— KasiNative (@Kasinative) May 12, 2017
@ThabisoTema Ayeeye TT Ayeeye!!!!! So Stuard Baxter can can take an early retirement from the Bafana coach work.

— Marcus Boya (@KgatediBoya) May 12, 2017
Baxter silencing his critics on Bafana appointment @nealcol

— Sandile Wela (@SandileWela) May 9, 2017